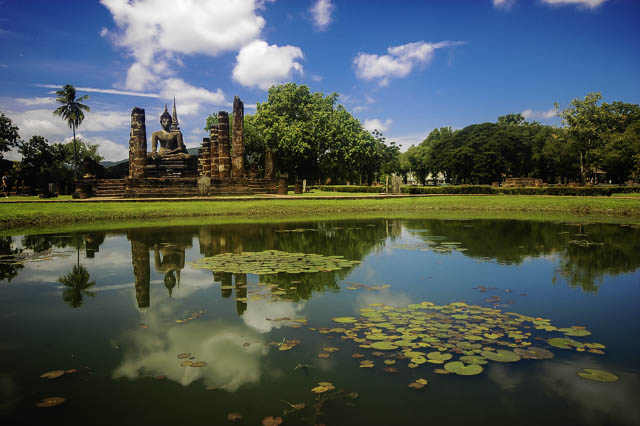 Sukhothai is heritage, yes. A name rooted in the Sanskrit words meaning "dawn of happiness". This thriving city is where the past is always present, yet dauntless enough to embrace innovation.
Sukhothai emerged as the first capital of Thailand for about 140 years; from 1238 to 1438. It was established by Thai governors, Khun Bang Klang Thao (Sri Inthrathit) and Khun Pha Muang who rebelled against the Khmers. It's been said that those years where the most prosperous era for the country – a golden age of Thai culture. Interestingly, it is also here where the current Thai alphabet was developed when Ramkhamhaeng King, son of Khun Bang Klang Thao who ascended the throne after the death of Khun Pha Muang in 1279, organized a writing system relatively influenced by China.
A seven hour bus ride from Bangkok brought me to this booming metropolis. It was wee hour in the morning when I got off at the terminal.  As in most places in Thailand, songthaews and rickshaws – akin to a backward tuktuk – rule here, and as expected the drivers swarmed me, offering to take me to the best, affordable guesthouse in town. As it turned out, most accommodations are situated in the New Sukhothai City, which I find highly convenient because it is near the stores, restaurants and bus terminal. Sidewalk eateries also abound here, and they are the place to be if you long to savor the best home-cooked Thai dishes especially the Sukhothai noodles which won't break your wallet.
Just 12 kilometers away from the New Sukhothai City is the Old Sukhothai City which is draped with all the ruins of the ancient capital. I took a songthaew that regularly runs between the old and the new city, not far away from my guesthouse.  Near the gate of the UNESCO World Heritage Site-listed Sukhothai Historical Park, bikes can be rented to explore the ruins.
The park is dappled with ruins reminiscent of the temples of Ayutthaya, highly influenced by Sri Lankan art, only that, it is not thronged by tourist hordes. Here, towering board-shouldered Buddha statues that have curly hair with a distinct flame above their heads guard the sprawling historic square.      
According to history books, the walking Buddha image is a unique feature of Thai art created in the 13th century because prior to those, Buddha icons all over Asia have three postures only – lying down, standing and the renowned sitting position.   But did you know that near Sukhothai, are the equally enchanting associated historic towns made up of the other two closely related ancient towns – Si Satchanalai and Kamphaeng Phet? Well, I wasn't aware either until I got there.  
I missed Kamphaeng Phet which is hidden on the southern border. Because of its strategic location, it served as Siam's military resistance back in the days. I took a bus instead to Si Satchanalai, the spiritual center of old Siam and the residence of the crown Prince in the 13th to 14th century. And just like in Old Sukhothai, biking is the best way to explore the ruins here.
Near the gate, the air is filled with floral scent as Thai women carve flowers out of scented soap. Buddha images, handicraft and interesting trinkets are sold at nearby souvenir shops. As I enter the modern Thai temple clad with Buddha of all sizes in different positions, an emaciated old man played a traditional xylophone while young kids religiously light candles, offer money and say prayers.
Biking further, I stumbled on impressive, well-preserved ancient temples (some accentuated with intricate stucco-relief) and multi-faceted stupa built from apricot-colored bricks and plaster. A quiet traditional Thai village is sandwiched in the ancient squares.  Locals here sell antiques, Buddha images, pots and porcelain jars. Unknown to many, Si Satchanalai became the thriving center of porcelain production for Ayutthayan  court to export to neighboring Asian countries. This is why visitors can find a series of age-old pottery kilns in Si Satchanalai  Historical Park, a testament that Sukhothai City is indeed full of sensational surprises.