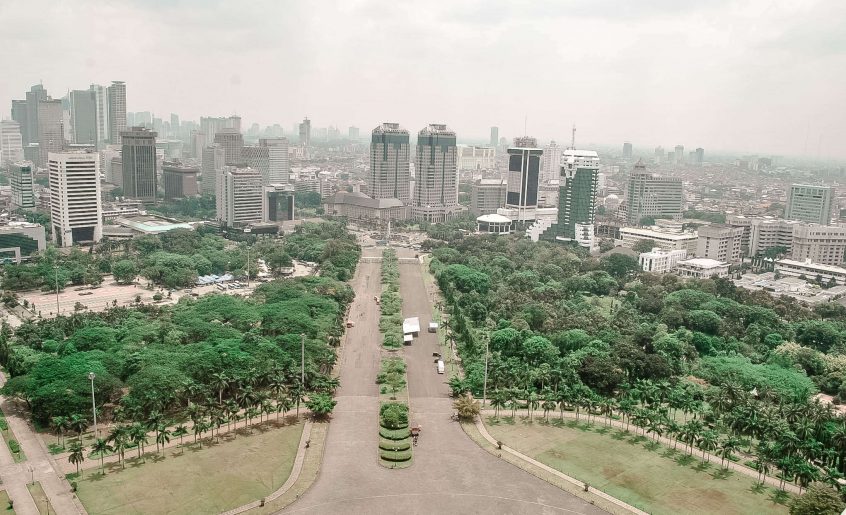 If you hate Manila traffic, try Jakarta. The sprawling capital of Indonesia is the region's most crowded not to mention the busiest, reason why many tourists hightail this city for the big swells of Bali  or the temples of Yogyakarta.    But don't fret, because if you're a culture vulture and a foodie, Jakarta is a melting pot that will pleasantly surprise you.
If you're wondering what to do in Jakarta, here's my hand-picked list of interesting tourist attractions that you can visit:
TOP ATTRACTIONS IN JAKARTA
WEST JAKARTA
KOTA TUA JAKARTA (OLD TOWN BATAVIA)
Arguably a must-visit for every tourists in Jakarta is the elegantly-preserved Old Town Jakarta, also known as Kota Tua or Batavia. If you want to see how Jakarta looked like before it became a modern city head to Taman Fatahillah /Fathahillah Square also known as Batavia City Square.
Kota Tua (Old Town Batavia) is undoubtedly, one of Jakarta's top tourist attractions. This first-walled community of the Dutch invaders in Jayakarta.  Kota Tua (Batavia) is an important capital of the Dutch East Indies because of its strategic location for the Asian spice trade.  The city had two centers back then: the Oud Batavia/Benedenstad (Lower City) and the Bovenstad (Upper City) which is the newer city.
Today, the heritage buildings dappled around the old town were turned into museums and cafes.  Check out the History Museum housed in the original 17th century town hall of Batavia. My personal favorite here is the Wayang Museum where tourists will be treated to a wealth of Indonesian-handcrafted puppets as well as masks and costumes.
Check out Café Batavia housed in a 19th century house used by the Dutch.  But my favorite place to dine here is the hawker street hemmed in by gerobak (mobile food carts) where you can find really tasty Indonesian street food.

Rainbow-hued bikes with matching hats are available for rent at Fatahillah Square.  You can bike to Sunda Kelapa, Jakarta's historical port where traditional Bugis Phinisi Schooner ships are docked.
GLODOK (CHINATOWN)
While you are in Batavia, make time to visit the nearby Glodok, Jakarta's Chinatown.  If you miss eating pork in Jakarta, rush here.  Though rarely seen on the list of top tourist attractions in Jakarta, Chinatown is worth a visit. This bustling place has a maze-like market hemmed in by hawker stalls selling street food,traditonal snacks, fruits and knick knacks.  Try the coffee here at  the iconic Kopi Es Tak Kie.
SION CHURCH
Zion Church (also Sion Church) is the oldest church in Jakarta Indonesia established around 1695.    My Indonesian friend Olyvia Bendon brought me here, and to be honest, I haven't heard of this church yet before.   Sion Church has a beautiful, intricately designed pulpit  as Hendrik de Bruijn dedication.  But perhaps the most neck-swiveling feature here is the organ musical wind-intrumentsnwith a beautiful flute set.   The church guide showed as how they used to play the organ, that originally needs  a roller man.  The organ was a gift from Johanna Mauritia Mohr, daughter of German priest Johan Mohr who became the priest of  the Portuguese in Batavia sometime in 1738.
There is no entrance fee, but visitors need to sign in the logbook.  A shy, helpful church guide will show you around, tipping is highly appreciated.
Sion Church
Jl. Pangeran Jayakarta No. 1, Jakarta
Entrance Fee: Free but donation is highly encouraged and tip for the guide.
Open Hours:
Daily
Tuesday to Saturday : 10:00 AM – 6:00 PM
Sunday: 09:00 AM – 2:00 PM
Mass on Sunday
06:30 AM Indonesian  Language
10:00 AM  Indonesian  Language
04:00 PM Hakka (Chinese) Language
CANDRA NAYA
Admittedly, just like Sion Church, I never heard of this heritage house until my Indonesian friend Olyvia Bendon brought me here.  Candra Naya is an 18th century house of Khouw Kim An, the last Chinese mayor in Jakarta, or Batavia. It became a center for Sing Ming Hui, a Chinese social organization after the death of the mayor.
Interestingly, this is age-old house is now dwarfed by modern apt building – the 21st century towers, a super block called Green City Center, an apartment, office, banks, restaurants and Novotel hotel.
This is because heritage advocates fought the business conglomerates who wanted to have this house removed. Apparently, descendants of Khouw family sold the house to the Modern Group and they intended to demolish it for the superblock of apartment buildings (Green City Center) or moved it to Taman Mini Indonesia, but it prompted a widespread protest from heritage advocates and former Jakarta governor Sutiyoso rejected the plan. Today, only the main buildings of Candra Naya as well as the ancillary buildings and gazebo are left.
Candra Naya
Jl. Gajah Mada
West Jakarta
Entrance Fee: Free
---
CENTRAL JAKARTA
MERDEKA SQUARE JAKARTA
The sprawling Merdeka Square in Jakarta is a beautifully-manicured plaza fringed by key government buildings including the National Museum of Indonesia, Supreme Court and Merdeka Palace.  Standing at the heart of the Plaza is the towering Monas (National Monument). Merdeka Square was dubbed as the King's square during the 18th century when the Dutch East Indies moved the center from old Batavia to Central Jakarta.  Today, it is usually the setting of large military and cultural events, festivals and flea markets.
Merdeka Square
Gambir, Kota Jakarta Pusat, Daerah Khusus Ibukota
Jakarta, Indonesia
MONAS (NATIONAL MONUMENT)
Crowning the heart of the Plaza is the towering Monas (National Monument), a top tourist attraction Jakarta.  This iconic obelisk is 137 meters high and its summit is a carved flame made of about 50 kilograms of gold foil. This landmark was a brainchild of President Sukarno who wanted to build the tallest structure in Jakarta.  It was built in 1961 but only completed 15 years later. Visitors can reach the top for a scenic view of Central Jakarta.
Monas
Gambir, Kota Jakarta Pusat, Daerah Khusus Ibukota
Jakarta, Indonesia
Entrance Fee:
Adult: IDR 20,000 / PHP 75 / USD 1.49
Children: IDR 10,000 / PHP 37 / USD 0.75
NATIONAL MUSEUM INDONESIA
Just east of Merdeka Square Jakarta, tourists can also visit the National Museum of Indonesia housed in an elegant colonial building locally known as Gedung Gajah (Elephant Building) because of the elephant statue, a gift from Thailand Rama V back in 1871, which welcomes visitors in front of the building. Inside, visitors are treated to a wealth of age-old masks, weapons, memorabilia, fabrics, relics and scriptures, among others.  Don't miss the Archaeological Garden housing the largest collection of Buddhist and Hindu artifacts in the country.
National Museum of Indonesia
Jl. Medan Merdeka Barat No.12
Central Jakarta, Indonesia
Open Hours:
Tuesday to Thursday: 8:00 AM to 4:00 PM
Friday: 8:00 AM to 11:30 AM and 1:00 PM to 4:00 PM
Weekends (Saturday and Sunday): 8:00 AM to 5:00 PM
Closed on Mondays and on Public Holidays.
Entrance Fee:
Foreigners: INDR 10,000 / PHP 37 / USD 0.75
Indonesians (Adults): IDR 5, 000 / PHP 19 / USD 0.37
Indonesians (Children): IDR 2,000 / PHP 7 / USD 0.15
ISTIQLAL MOSQUE
While you are in Merdeka Square area, make time to visit Istiqlal Mosque, just northwest of the square, another top tourist attraction in Jakarta.  It is believed to be the largest mosque in Southeast Asia that can accommodate up to 200,000 worshippers, this is not surprising as Indonesia has the largest Muslim residents in the world. It was built near the Merdeka Square where the kraton (Merdeka Palace) is located in accordance with the Javanese tradition. The Citadel Prins Frederick, built in 1837, was demolished and replaced by the Istiqlal Mosque in 1961.
For non-Muslim visitors, there is a free guided tour, prepare smaller bills as the guide will most likely ask for a tip after. Remember to take off your shoes (you can buy plastic bag from kid vendors outside).  There are robes available for visitors to borrow when you enter the mosque. You will be taken to the second floor where you can see the dome and the main prayer hall.  Also check out the gigantic hanging drum, locally known as bedug that was used to call prayers five times a day before the use of microphones and speakers.
Istiqlal Mosque
Jl. Taman Wijaya Kusuma, Ps. Baru, Sawah Besar, Kota Jakarta Pusat,
Daerah Khusus Ibukota Jakarta, Indonesia
Open Hours:
4:00 AM – 12:00 PM
Entrance Fee: Free
JAKARTA CATHEDRAL
Fronting the Istiqlal Mosque is the gorgeous Jakarta Cathedral built in 1901 in Gothic revival architecture. It has three main spires and three altars too. Inside the church is a pipe organ inspired by Neo-Gothic flair.  Its beautoful architecture beckons tourists, making it one of Jakarta's top tourist attractions.
Jakarta Cathedral
Jl. Katedral No.7B, Ps. Baru, Sawah Besar,
Kota Jakarta Pusat, Daerah Khusus Ibukota Jakarta
Entrance Fee: Free
---
EAST JAKARTA
Taman Mini Indonesia (TMII)
If you have limited time in Indonesia and you'd like to see the archipelago, head to Taman Mini Indonesia.  This sprawling park will show you the famous provinces of the country as well as their distinct cultures reason why it is one of the top tourist attractions in Jakarta.  It's a great introduction to the varied lifestyle of the people.  I especially love the intricate Balinese-inspired Museum here displaying different costumes of Indonesia, artifacts, weapons, age-old jewelries, masks, instruments, sculptures as well as puppets.
At the heart of the park there is a placid lake with cable cars, a perfect for family picnics. Also check out the theater here and Imas cinema. You can hire a bicycle (ask for a tourist map) inside the park to explore more of its attractions because it is quite huge.
Taman Mini Indonesia Indah
Ceger, Cipayung, East Jakarta City, Special Capital Region of Jakarta, Indonesia
Open Hours: Daily 7:00 AM to 10:00 PM
Entrance Fee:  IDR 10,000 / PHP 37 / USD 0.75
But some museums and attractions have entrance fees.
---
WHERE TO STAY IN JAKARTA
BUDGET HOTELS IN JAKARTA 
2015 Clay Hotel Jakarta

JL. Blora No. 20, Thamrin, Jakarta
Takes Mansion and Hotel
Jl. Taman kebon Sirih I No 3, Thamrin, Jakarta
B Shaw Hotel & Restaurant

Jalan Kebon Sirih Barat I Gang 7, Thamrin, Jakarta
MID-RANGE  HOTELS IN JAKARTA
Mercure Convention Centre Ancol Jakarta

Jl. Pantai Indah, Taman Impian Jaya, Ancol, Jakarta
Swiss-Belinn Kemayoran

Jl. Benyamin Sueb Blok D 6, Kemayoran, Jakarta
HIGH-END HOTELS IN JAKARTA
Pullman Jakarta
Jl. M.H. Thamrin No.59, Tanah Abang, Thamrin, Jakarta
Ascott Jakarta

Jl. Kebon Kacang Raya No 2, Thamrin, Jakarta
The Ritz-Carlton Jakarta, Mega Kuningan

Jl. DR. Ide Anak Agung Gde Agung Kav. E.1.1 No.1, Kuningan, Jakarta
---
ALSO READ: