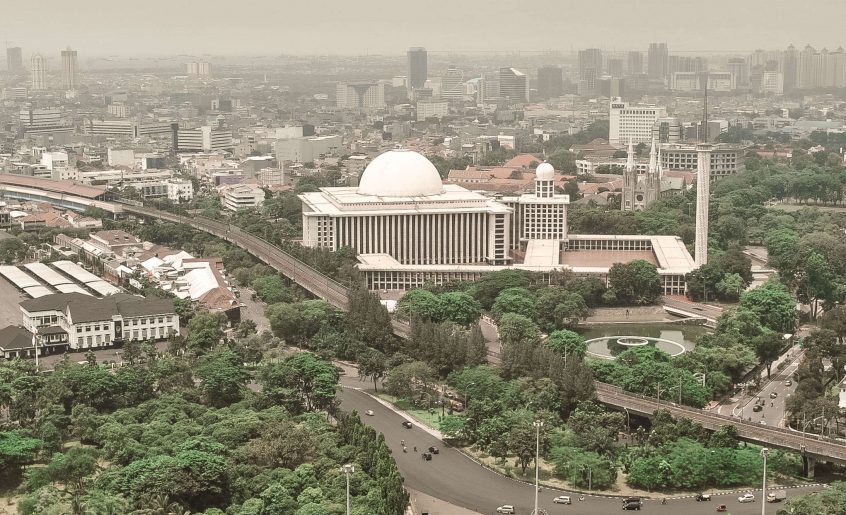 I've been to Indonesia a few times, but admittedly, I always hightail Jakarta, until my recent trip.  I had no choice but to stay in Indonesia's busy capital since I didn't book a flight to Bali ahead of time.  I waited a few days to book for a cheaper flight. So since I have 3 or 4 days to spend in Jakarta, I decided to explore this bustling city.  And oh boy, Jakarta pleasantly surprised me!
Despite the annoying traffic, I find Jakarta interesting because of its bountiful mix of cultures.  The lifestyle in Jakarta is a beautiful blend of the old and the new, of the East and the West.  To help you plan your trip to Jakarta, here's my suggested 3 day/ 2 night Jakarta trip itinerary. You can adjust it based on your preferences, budget and how long you'll be staying in Jakarta. If you decide to extend your trip in Indonesia, you can head to Bogor or Bandung (approximately 2-3 hours away from Jakarta by land) or fly to Yogyakarta or Makassar.
---
JAKARTA 3 DAY/ 2 NIGHT TRIP ITINERARY
Day 1
Jakarta Shopping and Nightlife 
| | |
| --- | --- |
| TIME | ACTIVITIES |
| 01:05 PM | ETA Jakarta International Airport |
| 01:30 PM | Cab to Hotel |
| 02:30 PM | ETA Hotel, check-in, Freshen up |
| 03:00  PM | ETD to Jakarta Mall (Pick your mall or whatever is nearest your hotel. Jakarta has several malls!) / Shopping |
| 05:00 PM | Back to hotel. Freshen Up |
| 06:00 PM | Taxi to Potato Head Jakarta |
| 08:00 PM | Transfer to SkyBar or Cloud Lounge and Living |
| 11:00 PM | Cab to Hotel / Bath and Sleep |
Flights from the Manila, Philippines usually arrive in the afternoon or evening in Jakarta.  You can take Cebu Pacific (with lay over in Singapore), Airasia (with lay over in either Singapore or Kuala Lumpur) or take a direct flight to Jakarta via Philippine Airlines.
Cabs are notorious in Jakarta, so I only recommend riding BlueBird taxi, it's a blue cab with a logo of a blue bird, make sure you read the name of the cab because there are other blue taxis in Jakarta. Otherwise, you can opt to ride Grab or Uber.
If you are arriving after lunch or early in the afternoon and only have a few hours left to spare, go shopping or buy souvenirs, but do set your budget and stick to it since you still have a few days left to explore the city.
Jakarta is peppered with shopping malls, so make sure your wallet is well-endowed when a planning a trip to Jakarta. To help you decide, here's some of the famous malls you can visit in Jakarta: Blok M has a good selection of apparels, bags and shoes, while Pasar Ikan is the go to place for souvenirs. Plaza Indonesia of FX Mall is the place to be if you are looking for designer bags, branded clothes, etc., but if you are on a budget and don't mind wearing non-branded clothes, you can settle for Mangga Dua.
Hedonists will love Jakarta. It ain't called the "City that Never Sleeps" for nothing! This metropolis has a thriving nightlife, Indonesian friends recommends Skye Bar on the 56th floor of the BCA Building and Cloud Lounge and Living on the 49th floor for their panoramic view of Jakarta Skyline. Dress up before heading here. If you love Potato Head in Bali (yes, the bar fringed with vintage windows!), you'll be glad to know there's also Potato Head in Jakarta with hipster vintage industrial design by Eka Nugroho, one of Indonesia's leading contemporary artists.
---
Day 2
Historic Jakarta Tour
| | |
| --- | --- |
| TIME | ACTIVITIES |
| 06:30 AM | Breakfast |
| 07:00 AM | ETD to Merdeka Square |
| 07:30 AM | Star of DIY Tour in Merdeka Square: MONAS, National Museum, Istiqlal Mosque and Jakarta Cathedral |
| 11:30 AM | Head to Glodok/ Chinatown for Lunch |
| 12:30 PM | Explore Chinatown |
| 01:00 PM | ETD to Sion Church |
| 01:20 PM | Explore Sion Church |
| 01:50 PM | ETD Kota Tua / Batavia |
| 02:15 PM | Explore Batavia Old Town : Wayang Museum, |
| 05:00 PM | Snack at Café Batavia or Eat at hawker food stalls |
| 05:30 PM | Sunset watching |
| 06:00 PM | Back to hotel. Freshen up. |
| 07:00 PM | Dinner |
| 08:00 PM | Socials/ Nightlife |
| 10:00 PM | Sleep |
This is my favorite part of my Jakarta trip, exploring the historical buildings in Jakarta.  Start the tour in Merdeka Square.   If you are staying in Jalan Jaksa, Jakarta's backpacker area, Merdeka Square is about 10 minutes by taxi or you can walk for about 22 minutes.  Grab Taxi or Uber to Merdeka from Jalan Jaksa will cost you around IDR 12,500 / PHP 46.61 / USD 0.94 to IDR 15,500 / PHP 58 / USD 1.16.
But the most popular and cheapest mode of transportation here is by ojek (motorbike) to avoid traffic.  Use Grab ojek or Uber ojek, fare is around IDR 5,000 / PHP 19 / USD 0.38.  You can also hail a motorbike but some drivers might take advantage and charge you around IDR 50,000 / PHP 186.43 / USD 3.74.
If you are traveling with someone or with a group, try Jakarta's tuktuk, fare is about IDR 20,000 / PHP 75 / USD 1.50.
You can also take the train and get off at Gambir Station.  From here, you can just walk to Monas in Merdeka Square.
Taking a bus is also a good option since the bus has its own lane.  To get to Monas or Merdeka Square by bus, take the bus (Trans Jakarta Bus) with Blok M or Kota Tua (Old Batavia) signage.  The bus will stop at Monas Busway.
In the morning, you can explore Merdeka Square which includes MONAS/ National Monument and National Museum.   You can also visit other attractions nearby such as the Istiqlal Mosque, the largest mosque in Indonesia and Jakarta Cathedral.
Then, you can head to Chinatown by taxi, Grab or Uber or just head straight to Kota Tua.  Have lunch there or at the hawker stalls in Kota Tua.  If you are not used to eating street foods, try dining at Café Batavia at Kota Tua.
After lunch, you can explore Kota Tua and its surroundings.  You can rent a bike with matching hat to explore Kota Tua. Don't miss the Wayang Museum.
---
Day 3
Taman Mini Indonesia
| | |
| --- | --- |
| TIME | ACTIVITIES |
| 06:30 AM | Breakfast |
| 08:00 AM | Bluebird Taxi to Taman Mini Indonesia |
| 09:00 AM | ETA Taman Mini Indonesia. Pay entrance fee. Hire bike and ask for a map. |
| 09:20 AM | Explore Taman Mini Indonesia |
| 11:30 AM | Lunch at restaurants  or hawker stalls inside Taman Mini Indonesia |
| 12:30 PM | Continue with the tour |
| 04:00 PM | End of Tour. Head back to Hotel. |
| 05:00 PM | ETA hotel. Freshen up. Rest. |
| 07:00 PM | Dinner. Socials. |
| 09:00 PM | Sleep |
If you only have limited time to spend in Indonesia and you happen to be in its capital – Jakarta, head to Taman Mini Indonesia.  This gigantic park showcases the provinces of Indonesia and their unique cultures. Here you can see the Balinese-inspired Museum, replicas of traditional houses in Makassar, Sabah and Bali, among others, peppered around a man-made lake with cable cars.
To get to Taman Mini Indonesia, you can take a cab from Jakarta city center, expect to pay around IDR 134, 289 / USD 10 one way.  The park entrance fee is  IDR 10,000 / PHP 37 / USD 0.75 only, but some attractions requires entrance fees of IDR 50,000 / PHP 186.43 / USD 3.74.
---
WHERE TO STAY IN JAKARTA
BUDGET HOTELS IN JAKARTA 
2015 Clay Hotel Jakarta

JL. Blora No. 20, Thamrin, Jakarta
Takes Mansion and Hotel
Jl. Taman kebon Sirih I No 3, Thamrin, Jakarta
B Shaw Hotel & Restaurant

Jalan Kebon Sirih Barat I Gang 7, Thamrin, Jakarta
MID-RANGE  HOTELS IN JAKARTA
Mercure Convention Centre Ancol Jakarta

Jl. Pantai Indah, Taman Impian Jaya, Ancol, Jakarta
Swiss-Belinn Kemayoran

Jl. Benyamin Sueb Blok D 6, Kemayoran, Jakarta
HIGH-END HOTELS IN JAKARTA
Pullman Jakarta
Jl. M.H. Thamrin No.59, Tanah Abang, Thamrin, Jakarta
Ascott Jakarta

Jl. Kebon Kacang Raya No 2, Thamrin, Jakarta
The Ritz-Carlton Jakarta, Mega Kuningan

Jl. DR. Ide Anak Agung Gde Agung Kav. E.1.1 No.1, Kuningan, Jakarta
ALSO READ: