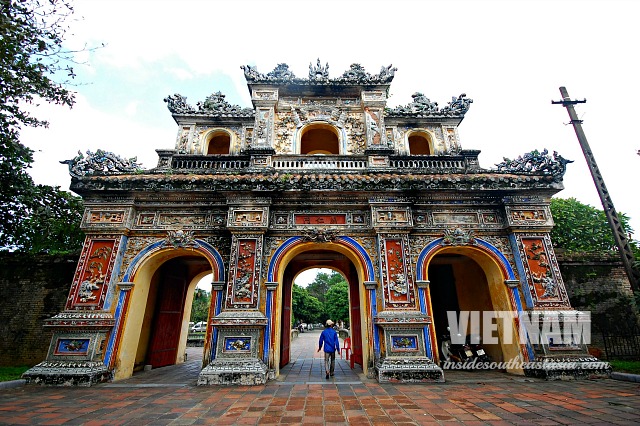 You won't have seen Vietnam if you haven't seen Hue – the political, intellectual and cultural heart of the country. Situated in Thua Thien-Hue Province, this UNESCO World Heritage Site was the seat of the Nguyen Empire, the last feudal dynasty of Vietnam under the leadership of Emperor Gia Long who ruled Southern Vietnam from the 17th to the 19th century.
An excellent primer on the history of Hue is the Imperial City – a visit here is a must for first-time tourists.
"Wait for me here", my Vietnamese driver pointed to a tiny red dot on a map after he dropped me by the entrance of a massive moat. "This place is massive and you need 2 hours at least to tour everything."
The uninitiated me did not believe at first, thinking he only needed some rest while I'm out exploring. Upon paying the entrance fee, I walked into the Gate of Noon (also Ngo Mon), the main gate to the Imperial City of Hue – which was under construction that time –  built by Minh Mang sometime in 1833. I was warmly welcomed by the Thai Hoa Palace (Hall of Supreme Harmony) located beyond the Bridge of Golden Water.  This royal structure boasts a timber roof draped by ornate carvings and supported by lacquered pillars. During the heydays of the Nguyen Lords, it served as the setting for significant ceremonies of Emperor Gia Long where he would usually sit on an elevated throne to receive foreign dignitaries.
After watching the audio-visual display before exiting the Thai Hoa Palace, I then realized, my driver was right. The Imperial City of Hue is colossal, and it's replete with age-old magnificent structures.  The layout is composed of Imperial City Gates, Imperial City Main Gates and Temples and Places of Worship. You'll get the most out of it if you have a knowledgeable guide, otherwise you can just read the signage and short history of each rooms and exhibits displayed inside the building.
Based on anecdotes, when Emperor Gia Long built this complex, he consulted geomancers.  Its layout were said to have been positioned within the natural setting of the place and aligned cosmologically with the five cardinal points (east, west, north, south and center), the five colors (blue, black, red, yellow and white)  as well as the five elements (water, fire, earth, wood and metal).  Thus, the citadels, temples and moats where laid out in harmony with geomantic ideologies.
What I also like about the Imperial City is, there's a building where tourist can actually rent traditional clothes and dress like the emperors and queens in the olden days. I chanced upon some tourists having a grand time sitting on the throne of the royals while clad in royal clothes. There's also a portion of the building where they sell souvenirs from Hue and other parts of Vietnam and artworks portraying the life and culture of Vietnam made by homegrown artists.
Undoubtedly, a leisurely walk around the Imperial City with its opulent beauty is a great pleasure and a truly fabulous reason to visit the area. I can't help but feel a certain ancient majesty here.
How to get to Hue from Hanoi:
Cebu Pacific Airlines flies from Manila to Hanoi. From Hanoi, you may take a domestic flight to Phu Bai International Airport (about 15 km South of Hue city center). Travel time is approximately 1 hour. Alternatively, you may take an open tour bus from Hanoi to Hue or take a train.
*This article has appeared in Cruising Magazine Going Places.