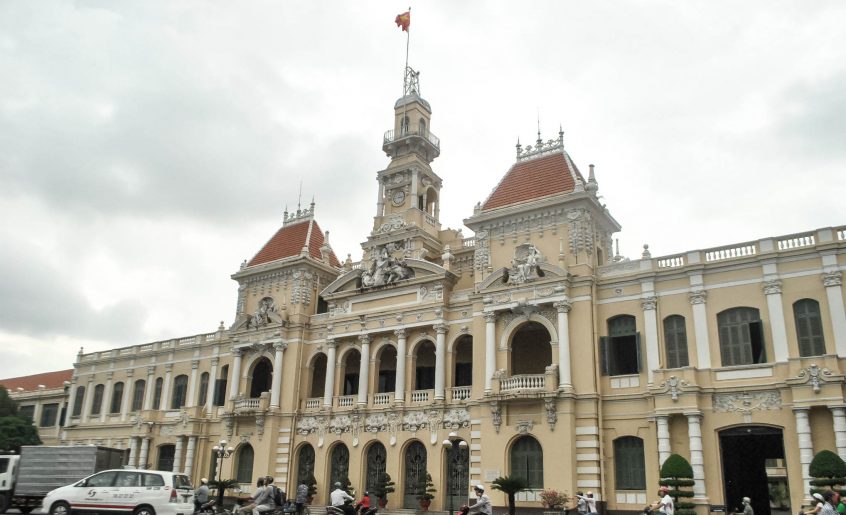 What began as a small fishing village where the Khmer people originally dwelled before the arrival of the Vietnamese settler during the 17th century became a pulsating metropolis now known as Ho Chi Minh City (Saigon). Here, timeless alleys are fringed with temple, street food stalls, cheap guesthouses, posh hotels and restaurants serving almost everything Vietnamese.   It may sound cliché, but this city blissfully located in southeastern Vietnam is an interesting blend of the old and the new where well-preserved old colonial buildings meet soaring skyscrapers. Just don't get intimated by a throng of speedy motorbikes because once you're able to cross the streets and make your way around the city, you'll be rewarded with varied welcoming sights and activities that will make your stay here truly unforgettable.  Ho Chi Minh City is notorious for motorcycle riding thieves that grab bags, mobile phones or cameras, right out of tourists' hands. Even my cyclo driver warned me about this, so just be extra careful when using your phone and camera on the street.  Nevertheless, most locals here are friendly and helpful so don't be too anxious, make the most of your trip here.  Here's a list of some of the top things to do in Ho Chi Minh for first-timers.
HO CHI MINH THINGS TO DO
EXPLORE HO CHI MINH CITY / SAIGON
Discover Ho Chi Min/ Saigon and soak in its ambience by touring the city's key historical buildings such as the Notre Dame Cathedral Basilica of Ho Chi Minh/Saigon, Ho Chi Minh/Saigon Post Office, the Reunification Palace and War Remants Museum. You can BOOK A HALF DAY HO CHI MINH CITY TOUR HERE.
 If you wish to see more of Ho Chi Minh/ Saigon, BOOK THE HO CHI MINH FULL DAY TOUR HERE.   Aside from visiting the key historical attractions mentioned above, you can also pay a visit to Thien Hau Temple, Chinatown, Cholon and Binh Tay Market and have a traditional local Vietnamese Pho lunch.
Another way to explore the city is by riding the cyclo. You can BOOK A CYCLO TOUR IN HO CHI MINH/SAIGON HERE 
CRAWL INSIDE THE CU CHI TUNNEL
When in Ho Chi Minh, don't miss visiting the iconic Cu Chi Tunnel, a living war museum.  Tourists can enter the sprawling underground tunnels where the Vietnamese soldiers used to camp and hide from the Americans during the Vietnam War through the camouflaged trap doors. You can also try the shooting range here for a minimal fee. Since it is far from the city center, about 40 minute drive, best to join tours. You can BOOK A CU CHI TUNNEL TOUR HERE
Cu Chi Tunnel
Address: Ấp Phú Hiệp, Phú Hiệp, Xã Phú Mỹ Hưng, Củ Chi, Bến Tre
Open Hours: 7:00 AM – 5:00 PM
SHOP AT BING TAY MARKET OR BEN TANH MARKET
Ben Than Market is popular shopping market in an age-old building Ho Chi Minh where you can buy just about anything, but it caters mostly to tourists.  If you wish to buy souvenirs, clothes, food and other crafts, you can get it here.  Big Tay Market is another popular market but caters mostly to locals, so prices are cheaper her compared to Ben Than Market.
WATCH A WATER PUPPET SHOW
Although the water pupppet show originated on the Red River Delta in North Vietnam, you can still watch this popular show at the Golden Dragon Water Puppetry or at Villa Sing Saigon in Ho Chi Minh/Saigon.  As you might have guessed it, the show usually lasts around 50 minutes showcasing marionette puppets that features varied scenes from Vietnamese history.
The Golden Dragon Water Puppet Theater
Venue for traditional Vietnamese puppet shows performed in water, with live music accompaniment.
Address: 55B Nguyen Thi Minh Khai Street, Ben Thanh Ward, District 1, Ho Chi Minh City, Vietnam
WATCH A CULTURAL SHOW AT THE OPERA HOUSE
One of my favorite activities when traveling is watching cultural shows, and thankfully, in Vietnam, it's easy to do just that.  A O Show is a Vietnamese show playing at Saigon's historic Opera House that features a beautiful blend if circus, dance and musical form showcasing the transition of Vietnamese rural life to modernization using bamboo props, a core feature of the Vietnamese rural life. The A O how is a lively performance featuring some of the performing artists, acrobats and best musicians in the country.  You can BOOK THE AO SHOW HERE that includes a dinner at Hoa Tuc Restaurant, a famed restaurant situated in a former opium factory in Vietnam.
GO ON A FOOD TRIP
One of my favorite experiences in Ho Chi Minh is eating Vietnamese food, and you can find them just about anywhere! Try banh mi, which originated in Hoi An, usually sold by street cart vendors.   Also sample goi cuon (Vietnamese spring rolls), fresh summer rolls filled with vegetables, shrimps and lean meat and slurp down pho, fresh rice noodle soup topped with beef or chicken and sprinkled with chopped green onions.
A great way to sample Vietnamese cuisine is by trying its street food and you can BOOK A STREET FOOD BY NIGHT TOUR HERE. You will be assisted by a local guide who will take you to the back streets and hidden alleys of Ho Chi Minh / Saigon to sample the best local food. You will also learn how to bargain in markets, sip Vietnamese coffee like a local and drink a local beer.
An exciting way to go on a food trip is by going on a motorcycle adventure with a local that will take you to some of the best places to have traditional Vietnamese food.  You can BOOK A MOTORCYCLE ADVENTURE HERE
LEARN HOW TO COOK VIETNAMESE FOOD
Don't leave Ho Chi Minh without trying its local food, Vietnamese food aims a perfect balance in taste and texture. But if you wish to go beyond tasting Vietnamese food, there are local tour operators offering an introduction to Vietnamese cooking.  You can BOOK A VIETNAMESE COOKING CLASS HERE under the supervision of and knowledgeable local chef who will help you pick the right type of ingredients. You can learn traditional recipes to take home.
HO CHI MINH DAY TRIPS
BOAT CRUISE ALONG THE MEKONG DELTA
Dubbed as the rice bowl of Vietnam, the Mekong Delta produces a large portion of Vietnam's rice. The popular mud-brown Mekong River flows all the way to the Tibetan plateau; running through several countries such as Southern Vietnam, Cambodia, Thailand, Laos, Myanmar and China. The Mekong Delta beckons tourists because of its serene countryside atmosphere, contrasted by the busy trade downtown.
To appreciate its beauty, most tourists coming from Ho Chi Minh avail of the boat cruise where they ride a traditional sampan wearing the Vietnamese conical hat.   The boat being paddled by a local will cruise past traditional villages speckled with fruit plantations, stilt houses, as well as fishing villages. You can pick from 1 day, 2 days or 3 day trips to Mekong Delta.
But if you are pressed for time, you can BOOK A MEKONG DELTA DAY TOUR HERE. The tour includes hotel pick-up and drop-off in Ho Chi Minh, see the Buddhist Vinh Trang Pagoda in My Tho, boat cruise along Mekong River, lunch at Tortoise Islet, visit An Khanh in Ben Tre (known for its fruit plantations),  plus learn how coconut candies are manufactured.  This is a lovely way to see the activities in Vietnam in the olden days.
ALSO READ: