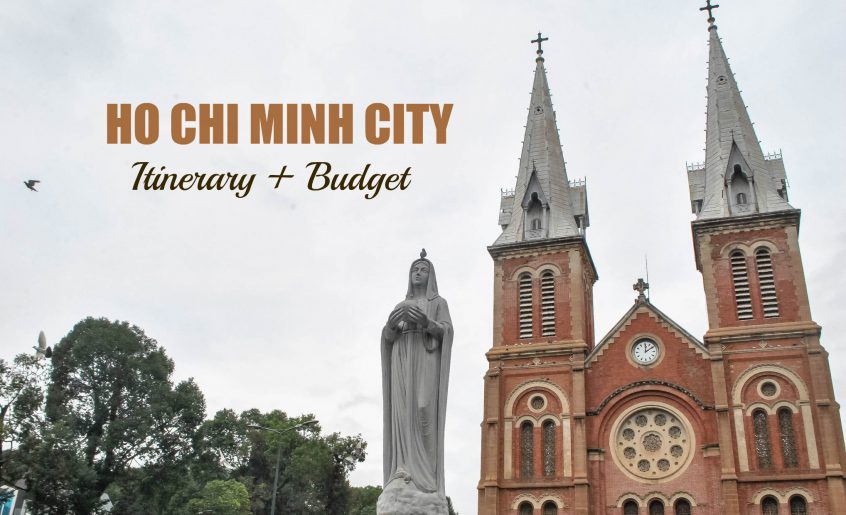 Ho Chi Minh City (HCMC) was never on my bucket list.  To be honest, the only reason I visited Vietnam is because I was already in Cambodia and my hotel sells bus tickets to HCMC/Saigon.  So I bought one and decided to cross the border from Phnom Penh (Cambodia) to Ho Chi Minh City (Vietnam).  Little did I know that I will fall in love with Vietnam, there's just so much that this country can offer and I'm going to show you that in a series of Vietnam post in this blog. For the meantime, here's my detailed Ho Chi Minh City itinerary for 3 days 2 nights, to help you plan your trip.  I also listed here the budget itinerary.
HO CHI MINH CITY ITINERARY WITH BUDGET
When I first set foot in Ho Chi Minh City, I didn't like it at first, yes it is full energy but I also find it chaotic. I like smaller cities that are easy to navigate.  But after attempting to do a walking tour here, meeting the friendly Vietnamese and tasting the heavenly Vietnamese streetfood, I started liking this bustling metropolis. Though admittedly it's not my favorite city, me thinks it's a good base if you want to explore southern Vietnam. It's cheap, packed with accommodations of all kinds, posh restaurants and hawker stalls, designer boutiques or flea markets.  Ho Chi Minh City is like a place packed with extreme opposites, reason why many tourists are drawn here despite its complexity.  So without further ado,here's my suggested itinerary for first time tourists in Ho Chi Minh City, Vietnam. Feel free to amend this according to your budget and schedule.
SCHEDULE
ACTIVITIES
DAY 1
MEKONG DELTA TOUR
07:00 AM
Breakfast

 

Food budget: VND 45,000 (PHP 100/ USD 2/EURO 2/ SGD 3/MYR 8)

07:30 AM
ETD for Mekong Delta Tour. Inclusion: My Tho, Vinh Trang Pagoda.

Tour budget: VND 412, 517 (PHP 917 / USD 18 / EURO 15.41/SGD 25)

12:00 PM
Lunch (FREE, included in tour package)
01:00 PM
Mekong Delta Tour (Visit An Khanh in Ben Tre)
05:00 PM
End of tour. Return to Ho Chi Minh City.

Hotel budget: VND 270,616 (PHP 600/ USD 12/ EURO 10/SGD 16/MYR 50)

06:00 PM
Early dinner.

Food budget: VND 45,000 (PHP 100/ USD 2/EURO 2/ SGD 3/MYR 8)

09:00 PM
Sleep
DAY 2
CU CHI TUNNEL + WAR REMNANTS MUSEUM
07:00 AM
Breakfast.

 

Food budget: VND 45,000 (PHP 100/ USD 2/EURO 2/ SGD 3/MYR 8)

07:30 AM
Cu Chi Tunnel Tour.

Tour budget:  VND 435,435 (PHP 968/ USD 19 / EURO 16/ SGD 26/MYR 81)

11:00  AM
Lunch
02:00 PM
End of tour. Travel back to Ho Chi Minh City.
04:00 PM
Estimated arrival in Ho Cho Minh.  Drop-off at War Remnants Museum.
04:10 PM
Tour War Remnants Museum. DIY tour.

Entrance fee: VND 10,000 (PHP 22 / USD 0.44 /EURO 0.37/ SGD 0.61/MYR 2)

05:30 PM
Back to hotel.

Uber budget: VND 18,000/PHP 41 (USD 0.79/EURO 0.67/SGD 1/MYR 3.35)

07:00  PM
Dinner.

Food budget: VND 45,000 (PHP 100/ USD 2/EURO 2/ SGD 3/MYR 8)

09:00 PM
Sleep.

Hotel budget: VND 270,616 (PHP 600/ USD 12/ EURO 10/SGD 16/MYR 50)

DAY 3
HO CHI MINH CITY TOUR
07:00 AM
Breakfast.

Food budget: VND 45,000 (PHP 100/ USD 2/EURO 2/ SGD 3/MYR 8)

Join Group tour for HCMC City Tour.  Visit: Independence Palace,Saigon Central Post Office, Saigon Notre Dame Cathedral and Ben Thanh Market.

Tour budget: VND 298,000 (PHP 662/ USD 13 / EURO 11/ SGD 18 /MYR 55)

11:00 PM
Lunch

Food budget: VND 45,000 (PHP 100/ USD 2/EURO 2/ SGD 3/MYR 8)

12:00 PM
Check-out from hotel. Leave luggage at reception.  Or pay for half-day extension.
12:30 PM
Shopping at Ben Than Market
06:00 PM
Early dinner.

VND 70,000 (PHP 155/ USD 3/EURO 3/SGD 4/MYR 13)

07:00 PM
Get luggage. Head to Airport via Bus #109 or Uber.

Bus fare: VND 20,000 (PHP 44/ USD 2/EURO 0.75/ SGD 1.21/MYR 4)

TOTAL EXPENSES
VND 2,075, 184/PHP 4,761 (USD 91/EURO 78/SGD 124/MYR 386)
WHERE TO BOOK HO CHI MIN CITY TOURS
Mekong Delta Tour
Tour the beautiful countryside of Mekong Delta with an English-speaking guide
Go on a relaxing boat ride along the river to see iconic fishing villages with stilt houses and rice paddies
Enjoy a traditional Vietnamese lunch, snack on fresh fruit and honey tea, sample locally made coconut candy
Inclusion:
English speaking guide
Boat cruise in Mekong Delta
Entrance fees
Lunch, fruits & honey tea
Mineral water
Pick up/drop off from hotels in Central District 1: Lê Thánh Tôn, Lý Tự Trọng, Đồng Khởi, Nguyễn Huệ, Trương Định, Bùi Thị Xuân, Thái Văn Lung, Thi Sách Streets (for Mekong Delta Full Day Tour (pick up only)
---
Saigon City Tour
Walk the streets of Ho Chi Minh to soak in its unique atmosphere and see its key sights
Visit important historical monuments: War Remnants Museum, Reunification Palace and more
Take pictures with well-known landmarks
Learn about this fascinating and historic Vietnamese city from your English speaking guide
Inclusion:
Join in group tour
English speaking guide
Entrance fees
Hotel transfers for hotels located in De Tham, Pham Ngu Lao, Bui Vien Street only, additional charges apply hotels located outside of this area
 
---
CU CHI TUNNEL TOUR
Discover the hidden underground world of Vietnam's complicated network of tunnels
Learn about the complicated and incredibly inventive lives of the tunnel residents
Pay a visit to a local family to learn about Vietnam's history and culture first hand
Gain insight into the life in the area in both past and present
Inclusion:
Guided join in tour
Local English-speaking guide
Pick up/drop off from hotels in Central District 1: Lê Thánh Tôn, Lý Tự Trọng, Đồng Khởi, Nguyễn Huệ, Trương Định, Bùi Thị Xuân, Thái Văn Lung, Thi Sách Streets (for Cu Chi Tunnels Half-Day Tour (pick up) only
Entrance fees
One bottle of mineral water

BUDGET HOTELS IN HO CHI MINH CITY
Town House 23 Saigon Hotel
23 Dang Thi Nhu Street, Nguyen Thai Binh Ward, District 1, District 1, Ho Chi Minh City, Vietnam
Chill Box
212A/A61 Nguyen Trai Street, Nguyen Cu Trinh ward, District 1. District 1, Ho Chi Minh City, Vietnam
Tripwriter Hotel
185/28 Pham Ngu Lao Street, District 1, District 1, Ho Chi Minh City, Vietnam

---
ALSO READ: