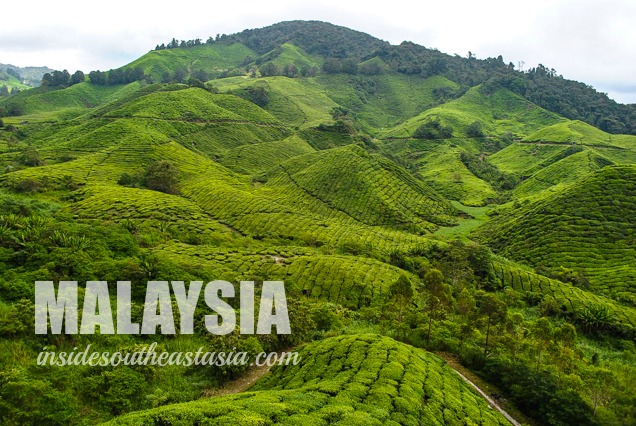 They say the road to Ringlet is scenic, but today, the sky is as dark as the shadows so I can't attest to that.  Sitting on the back seat of an old-fashioned car with two strangers, I was prying where the driver would take us.  Tonight's unexpected road trip is courtesy of a stranger-turned-friend.  Our driver is a priest whom everyone calls Father in the main settlement of Cameron Highlands called Tanah Rata.  Ever since I developed a love affair with solo traveling, meeting strangers and eventually joining them on the road to nowhere has become a habit.
As the car pulled off by the roadside, a peculiar site that rarely sees tourists was unveiled to us. The extensive stretch of a flower field lighted at night mimics a movie scene of a fiery city against the towering mountains.  The yellow lights imitating flames were dancing with the cold wind gracefully overpowering the dark sky charmed by countless stars.  The scene is far too powerful for my lowly camera to capture.
Cameron Highlands is perched on the soaring peaks of Banjaran Titiwangsa in Malaysia.  Named after a British government surveyor William Cameron, this extensive stretch of plateau is a famous hill retreat for weary tourists wanting to escape the heat of the peninsula's lowlands. Despite the unfortunate fact that this is the place where Jim Thompson mysteriously disappeared, this famed hill station is a safe haven for travelers.  As much as I would want to explore it on my own though, I can't find a bike for rent or a timely public transportation in town.  I booked for a tour package which is not really that bad considering tourist attractions here are scattered at a considerable distance from each other on the next town.
Here are some of the tourist attractions in Cameron Highlands:
The Flower Nursery 
With its bountiful pastoral land and cold climate, Cameron Highlands is an impeccable spot to cultivate flowers, reason why it is a leading producer and exporter of fresh flowers in Malaysia.  I got a glimpse of a flower nursery where dahlias, carnations, geraniums, roses, lilies, and vines are grown.  But what delighted me more is a quintessential Chinese temple nearby.  A perfect spot to capture nostalgic photos with its old, cluttered beauty, Chinese gods made of porcelain and other classic fixtures adorning the tables and paintings of Kings and warriors hanging on the red wall.
The Strawberry Farm
Strawberries are grown locally in the highlands.  They are cultivated on bag-and-drip feed system.  Nothing so special about their strawberry farm but I enjoyed the tasty strawberry cake and shake sold there while the rest are busy buying their strawberry jams and teas.
The Honey Bee Farm
Visitors can actually learn about bees and how they produce honey.  Found lots of souvenir items, foods, teas and jams made from honey sold here.
The Markets
The market is where fresh produce from the farmlands of the Cameron Highlands are sold at reasonable prices by the locals.  The best time to visit though is during weekends.
Time Tunnel
An excellent way to get a glimpse of the heritage of Cameron Highlands is by visiting this memorabilia museum, said to be Malaysia's first. Highlights include photos from post-war era, nostalgic display and the corner about the famous Jim Thompson, man behind the famous Jim Thompson Silk House in Bangkok who mysteriously disappeared in Cameron Highlands while on vacation sometime in 1967.
The Sam Poh Temple 
A bigger and newly renovated Sam Poh Temple is standing on top of a mountain. It offers a bird's eye view of the serene town dotted by Tudor-styled apartments, buildings and hotels.  Inspired by oriental architecture, this Buddhist temple is divided into 2 big halls containing huge golden statues of Chinese warriors, deities, and the Lord Buddha and surrounded by temperate climate flowering plants.
Tudor Style Hotels and Apartments
Highly influenced by the British colonial period, Cameron Highlands is renowned for its mansions celebrating everything British. A number of hotels and apartments have sprouted everywhere since the road to the hill resort was developed sometime in the 1930's.  Some of the famous mansions here are Moonlight Bungalow where Jim Thompson mysteriously disappeared, the posh Lake House and the grandiose Ye Old Smoke house. The flood of heavy tourism has caused significant developments and changes especially in Brinchang town, the  once lush rolling hills use mainly for agriculture are now covered by infrastructures and apartments for sale and rent.
Trekking the Mossy Forest and Gunung Brunu
Hidden in the confines of the massif of Cameron Highlands is a mossy forest reminiscent of fairy-tale movies.  The evergreen forest abundant with ferns, vines, lichens, orchids and pitcher plants can be reached by day hike to Gunung Brinchang. At the end of the walk tourists can climb a trail to The Cameron's highest peak – Gunung Irau.
­­­­­­
The Tea Plantation
The tea plantation is the main attraction of Cameron Highlands; it is included in every tour package.  We were welcomed by rolling mountains turned into a vast river of lush green tea.  The view is serene and walking in between the extensive tea plants with the cool air is a calming experience.  Later on we were toured into the tea factory where they introduced the tea making process to visitors.  Visitors can enjoy a cup of tea or buy the packed teas at the charming shop and bar beside the tea factory of Boh Tea Plantation.
One can't help but notice the blue green roofs lined up in one area of the tea plantation. These are houses built for the modern day tea leaf pickers in Cameron Highlands.  I expected to see locals picking tea by hands but our guide said, it's kind of old fashioned already and impractical, so the tea pickers uses hedge-cutter like machine with a cloth bag trailing behind over tea plants instead. Father said the tea pickers are migrant workers from Bangladesh, Indonesia, Nepal and Sri Lanka.
The tea plantation is indeed a majestic sight to behold but standing with strangers on the edge of the hill overlooking the flaming-city-like-scene at night is more surreal.  The night that made me realized that there is contrast in every destination, and there is beauty in each contrast.  I just hope Cameron Highlands would be able to handle its fast rise to fame.
How to Get to Cameron Highlands:  There are 5 express buses a day from Kuala Lumpur (4hr); the last trip is at 3:30 pm.  
Where to Stay:  Father's Guesthouse, Kang Travellers Lodge and Ye Olde Smoke House
Where to Eat:   Ye Olde Smokehouse, Rosette (Western Foods) and Kumar Restaurant (Malaysian and Indian dishes)
Where to get a relaxing massage after the trek: Princess Salon (look for Mr. Ray)