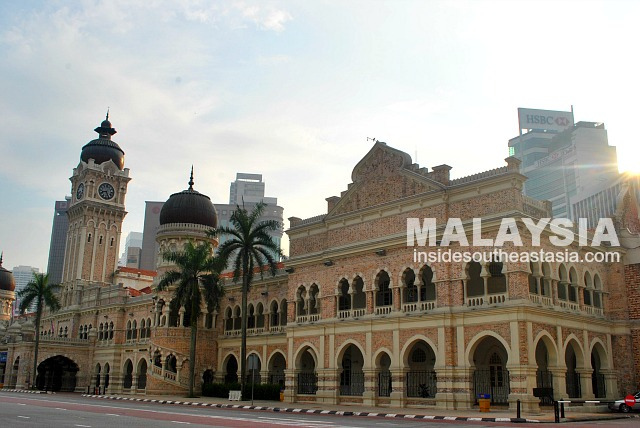 Blissfully nestled along the Gombak and Klang river in Malaysia is the nostalgic territory of Kuala Lumpur. The old district offers a sampling of how the area have diversified. Its success is attributed to the legendary Chinese leader Yap  Ah Loy.
According to anecdotes, around the 18th century, a variety of indigenous groups started to settle here. Today the old district is flocked by tourists; which is no surprise as it also a haven of different cultures and religion and harbors a variety of architectural splendors mostly inspired by Islamic architecture as well as colorful Baba-Nonya shophouses, temples, and mosques. It is
Aside from the PetronasTowers, one of the legendary landmarks in Kuala Lumpur is the twin buildings of Sultan Abdul Samad Building and the Old Post Office.  This grandiose structure speaks volue of its Moorish influence.  Marvel at the towering clock tower, the apricot colored bricks, the splendid columns and onion-shaped domes.
Yet another magnificent  statement of  Moorish revival architecture sits proudly on the next block – the National Textile Museum.  This important building is delightfully clad by different fabrics, jewelries and clothing.   But the star of  this side of the oldest district is the impressive Jamek Mosque known for its golden oval domes.
But Islam is not the only religion that thrives on the old district of Kuala Lumpur, the Tamils have also built their havens here.  A beautiful Hindu temple s tucked quietly on one of the smaller streets in the old district just beside the Klang Bus station near the Putra LRT station. The 18th century Sri Mahamariamman Temple is believed to be the oldest Hindu temple in the country.  It has is clad by ornate designs and colorful Hindu Gods and Godesses.
Even the Chinese have comfortably settled in this region as evident  in the dazzling Chinese temples dotted around the area. The Guan Di Temple has two fierce-looking warriors manning its gate, while inside visitors will get to meet General Kwan.
Another popular destination in Kuala Lumpur is the Central Market, an 18th century shopping haven built during the British rule.  It offers a vast collection of Malaysian, Indonesian, Indian and Chinese goods at affordable prices.