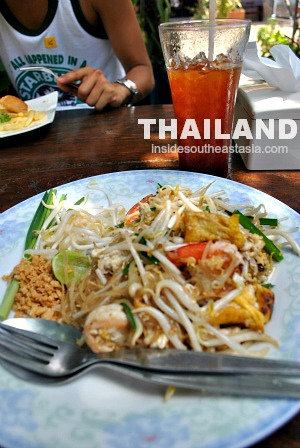 Food in Thailand has long been on the list of top cuisines in the world.  Thai dishes are loved for their aroma and richness in exotic flavor plus the fact that they are available almost anywhere in the country at reasonable prices – at eateries, street vendors and Thai restaurants . Here's our list of must-try Thai cuisines when visiting Thailand :
Pad Thai – A street food favorite of both locals and tourists traveling in Thailand, pad thai is a mix of stir-fried rice noodles mixed with scrambled eggs, dried shrimps, pounded shallots, crushed peanuts, sliced tofu, sugar and bean sprouts among others.
Tom Yum Goong (Spicy Shrimp Sauce) – This well-known sour-spicy soup that is distinctly Thai, is an aromatic blend of juicy fresh prawn, lemongrass, shallots, galangal, fish sauce, lime juice, chili and mushrooms.
Gaeng Kheow Wan Gai (Green Chicken Curry) – This Thai dish is a spicy mix of coconut milk, bamboo shoots, lime leaves, lemongrass and green chilies served with chunks of chicken and small-sized Thai eggplants. The green curry paste is responsible for its green color.
Yam Nua ( Spicy Beef Salad) – Tender beef strips are combined with a salad of sliced cucumbers, tomatoes, onions, pepper, with fish sauce, lime juice and garlic serves as the salad dressing.
Tom Kha Kai (Chicken in Coconut Soup) –  Served with chicken strips, this richly flavored soup is a creamy and aromatic blend of lemongrass, kaffir lemon leaves, chili, young galangal, shallots and coconut milk. 
Khao Pad(Fried Rice) – Another well-known food to tourists that can be found anywhere in Thailand is their version of fried rice locally known as Khao Pad. This Thai food recipe typically includes egg, shrimp, prawn, crab or chicken and vegetables and herbs.
Gai Pad Met Ma-Muang Himmaphan (Chicken with Cashew Nuts) – This delectable Thai cuisine is made of sauteed chicken combined roasted cashew nuts, mushrooms, pepper, carrot, onions and glazed with honey,oyster and fish sauce.
Nuea Satay (Beef  Satay)- Served on skewer, the beef satay Thailand version is made of fried beef marinated in coconut milk, curry powder and fish sauce.
Som Tum (Spicy Green Papaya Salad) – This spicy salad originated from Isaan province. The usual ingredients are shredded raw green papaya, green beans, chilies, garlic,  cherry tomatoes, and anchovy sauce.