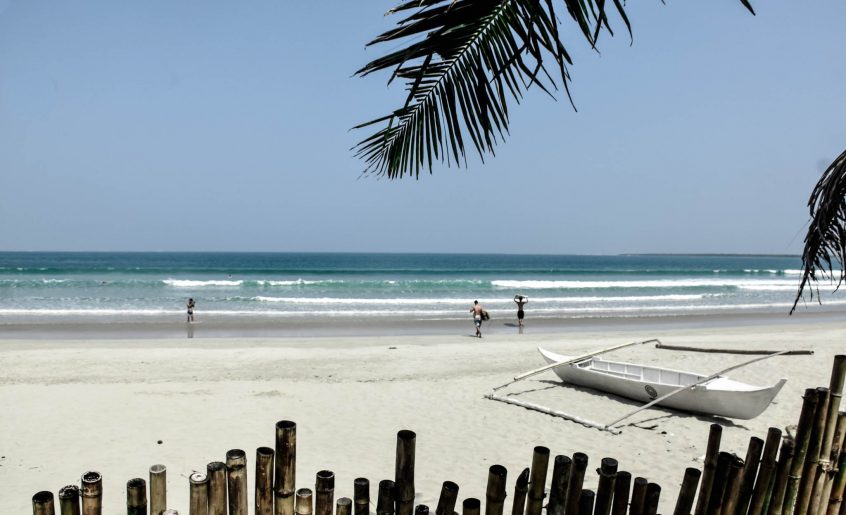 Whenever I tell people I am from Sorsogon, I am often asked, "Where is Sorsogon?" or "What are the Sorsogon tourist spots? Or the things to do in Sorsogon?" These questions prompted me to blog about Sorsogon, to showcase the top places to see in Sorsogon.
Where exactly is Sorsogon? It is a province on the southeastern tip of Bicol Region, so if you are coming from Manila, you'll find it after Albay.  Sorsogon is still part of Luzon and is composed of 14 towns and 1 city, which is its capital – Sorsogon City.  This largely bucolic province is mostly lapped by azure beaches, except for the land-locked municipality of Irosin.
I've rounded up the top attractions in Sorsogon for first-timers to help you plan your trip to Sorsogon this 2017.
SORSOGON TOURIST SPOTS AND HOW TO GET THERE
 DONSOL, SORSOGON TOURIST SPOTS
The once sleepy town of Donsol suddenly turned heads because of the presence of whale sharks, the biggest fish in the world. Soon enough, tourists started flocking to Donsol to swim with the whale sharks or go whale shark watching. Best months to visit for Donsol whale shark interaction is during March to May. Tourists can hire a boat in Donsol for whale shark watching for PHP 3,500 (USD 71/ SGD 96), good for 6 persons. The Donsol boat rental fee goes to the following: PHP 2,500 (USD 50/ SGD 68) for the boat rental, BIO (Butanding Interaction Officer) fee for PHP 650 (USD 13/ SGD 18) and Spotter/ Guide for PHP 350 (USD 7/ SGD 10). Tourists need to register at the Donsol Visitor Center and pay for PHP 100 (USD 2/ SGD 3) (locals) or PHP 300 (USD 6/ SGD 8) (foreigners).  Aside from whale shark watching in Donsol, tourists can also join the firefly watching tour after the sunset cruise at Ogod River.
DONSOL WHALE SHARK WATCHING
OGOD RIVER CRUISE AND FIREFLY WATCHING TOUR
How to get to Donsol:
To get to Donsol, Sorsogon, you can fly to Legazpi Airport in Legazpi.  Then take a tricycle to Legazpi Bus or van terminal near Pacific Mall.  Chartered tricycle is around PHP 50 (USD 0.99/ SGD 37) to PHP 80 (USD 2/ SGD 2.19).  Then look for the jeepney to Donsol or better yet, ride the express van as it is faster. Public van fare is roughly PHP 100/ USD 2and travel time is about 1. 5 hours.
Alternatively, you can ride a bus bound for Sorsogon and alight at Putiao crossing to Donsol.
Where to stay in Donsol
SORSOGON CITY TOURIST SPOTS
Sorsogon City is the capital of Sorsogon Province.  At downtown Sorsogon you will be welcomed by the purring of the tricycles and bustling commercial district made up of franchises of national fastfood chains and other businesses. The area is beautifully crowned by Sorsogon Cathedral (St, Peter and Paul Cathedral) flaunting its colossal dome.
ST.PETER AND PAUL CATHEDRAL
BOTONG TWIN FALLS
BUSAY FALLS
How to get to Sorsogon City
The fastest way to go to Sorsogon City is by flying to Legazpi City since the nearest airport is located there. From the airport, charter a tricycle to Legazpi Bus Terminal near Pacific Mall, fare is PHP 50 (USD 0.99/ SGD 37) and board a bus (Queens Bus) bound for Sorsogon City. The bus will stop at Sorsogon Bus and Jeep Integrated Terminal. Take a tricycle to Sorsogon City, tricycle fare is PHP 20 / USD 0.20 per person.  Alternatively, you can also take a bus en route to Sorsogon City from Manila (Cubao, Pasay and Alabang). Fare is about PHP 800 (USD 16/ SGD 22) for AC buses and PHP 500 (USD 10/ SGD 14)  for non-ac buses, travel time is 10-12 hours.
Where to Stay in Sorsogon City
PAGUIRIRAN ISLAND
This shamrock green seawater lagoon clad by rock formations has long been drawing local tourists. Situated in Bacon district, Paguiriran Island is about 30 minutes away from downtown Sorsogon.  An ideal place for swimming and snorkeling, but do time your visit during low tide because you need to walk a few meters away from the shore to the lagoon.  If you are lucky enough to visit the beach when the sky is cloudless, you might get a glimpse of Mt. Mayon from afar.
How to get to Paguiriran:
From Sorsogon City take a tricycle to the terminal of jeep en route to Sawanga, Bacon.  It's somewhere in the downtown area.  Ride the jeep and tell the driver you are alighting at Paguiriran Island which is a few minute walk away from the road.
BUHATAN RIVER CRUISE
A fast-rising eco-tourism project in Sorsogon is the Buhatan River Cruise, established by the people of Brgy. Buhatan and the Samahan ng mga Kababaihan ng Buhatan. Tourists can opt for kayaking for PHP 100 / USD 2 per hour for two persons or ride the floating cottage restaurant for PHP 1,500 (USD 30/ SGD 41) good for 10 persons. Tourists are served local dishes such as linukay, hinagom, chocolate tablea and taro chips. Other activities can also be enjoyed here such as firefly watching, bird watching and trying out the bentol, a traditional fishing method.
PRIETO DIAZ TOURIST SPOTS
Prieto Diaz maybe under-the-radar, but it doesn't mean you have to skip it.  If you are looking for other tourist destinations in Sorsogon, try to check out this sleepy town.  Prieto Diaz is blessed with charming cream sand beaches, check out Tutin Beach and Lebanon Beach, reachable by tricycle from the town proper.  The town also has a mangrove forest, tourists can rent a boat to cruise here.
LEBANON BEACH
TUTIN BEACH
MANGROVE FOREST
How to get to Prieto Diaz
If you are coming from Sorsogon City.  Ride a jeepney en route to Gubat, Sorsogon at the Sorsogon Integrated Bus and Jeepney Terminal.  Fare is about PHP 50 (USD 1/SGD 1.37) and travel time is about 30 – 45 minutes.  Alight at Gubat Public Market in downtown Gubat and ride a jeepney to Prieto Diaz. Travel time is about 1 hour.
GUBAT, SORSOGON TOURIST SPOTS
The word "gubat" translates to forest, so locals here often say "may surfing sa Gubat" (there is surfing in Gubat).  True enough, there is surfing in Gubat, Sorsogon and for the longest time, it's one of the town's best-kept secret until travel bloggers started to put the words out there about 5 years ago.  One of the best surf spots in Gubat is Buenavista beach, and Lola Sayong Surf Camp is a popular choice for tourists
GUBAT SURFING
How to get to Gubat, Sorsogon
At Sorsogon City Integrated Bus and Jeep Terminal, take a bus to Gubat.  Travel time is about 30 – 45 minutes and fare is about PHP 50 (USD 1/ SGD 1.37).  If you are coming from Manila, you can take a bus (CUL, RSL, DLTB, Penfrancia, Raymond, Philtranco) bound for Gubat in Cubao (near Ali Mall), Pasay or Alabang (in front of Star Mall).   Fare is about PHP 500 (USD 10/ SGD 0.27)  for ordinary bus to PHP 800 (USD 16/ SGD 0.44) for air-conditioned bus.  You can also fly to Legazpi City from Manila or Cebu and then board a bus to Sorsogon at Legazpi Bus Terminal near Pacific Mall.  Travel time is about 2 hours.  Then transfer to a jeepney to Gubat at the Sorsogon bus and jeepney terminal.  You can also take a bus bound for Bulan and tell the driver or conductor to drop you off at Abuyog.  At Abuyog, cross to the other side and wait for a jeepney to Gubat at the waiting shed.  Fare is PHP 25 (USD 0.40/ SGD 0.68), travel time is about 20 minutes.
BARCELONA TOURIST SPOTS
If you find yourself in Gubat, don't miss a side trip to Barcelona known for its charming stone church which was erected in 1874.  Sadly, the inside of the church was already renovated and now exudes a modern look.  In front of the church is a small park with ruins of an age-old watch tower.
BARCELONA CHURCH
BARCELONA RUINS AND PARK
How to get to Barcelona:
From Gubat, Sorsogon, take a jeepney to Barcelona in front of Gubat Public Market.  Travel time is about 30 minutes, fare is about PHP 16 (USD 0.32/ SGD 0.41).
BULUSAN, SORSOGON TOURIST SPOTS
Bulusan has always been a tourist magnet, but thankfully, it retains it serenity despite the crowd it brings.  It's one of my personal favorite because it seems like everywhere you'll see green here, from forest-clad mountains to the emerald-green Bulusan Lake, from pristine waterfalls to hot and cold springs.
BULUSAN LAKE
BULUSAN SPRINGS
DANCALAN BEACH
How to get to Bulusan:
If you are coming from Manila, you can either head to Gubat or to Irosin. If you are coming from Gubat, you can ride a jeep to Bulusan town. You can also drop by at Dancalan Beach or head straight to Bulusan town then hire a tricycle there to Bulusan Lake for about PHP 300 (USD 6/ SGD 8).
IROSIN TOURIST SPOTS
Irosin is the only land-locked town in Sorsogon province, but despite the lack of beach, it has its own attractions to flaunt.  The Valley View in Irosin is my favorite spot to view Mount Bulusan, from downtown Irosin, you can ride a tricycle or jeepney to Matnog or Bulan and alight here. You can also climb the towering St. Michael Archangel Roman Catholic Church.  Irosin is also popular for its hot springs and cold springs.
IROSIN CHURCH
IROSIN VALLEY VIEW
IROSIN HOTSPRINGS
How to get to Irosin
If coming from Sorsogon City, take a bus bound for Bulan and alight at Irosin.  There are direct buses from Manila to Irosin. Travel time is about 12 hours fare is PHP 800 (USD 16/ SGD 22) – PHP 1,000 (USD 20/ SGD 27).
 JUBAN SORSOGON TOURIST SPOTS
Just along the National Highway in downtown Juban, one can find beautifully-preserved old houses (bahay na bato).
JUBAN ANCESTRAL HOUSES
MAGALLANES TOURIST SPOTS
I've known Magallanes since I was a kid, it's my father's hometown.  And one of the places that is pretty close to their house is Gibalon Church in Siuton, believed to be the site of the first mass in Luzon.  A few minutes away is a popular spot for swimming – Bucal-Bucalan Spring.  But perhaps my favorite tourist spot in Magallanes is Parola Beach located in Bagatao Island where we did field work for 3 months back in college for our Anthropology class.  Parola Beach is crowned by an age-old Spanish-era lighthouse, hence the name.  The beach here is white to cream sand and lapped by a swirling mix of emerald green and azure waters.  The place had a facelift recently and as per the Local Government Unit's ordinance, the boat rental now from Magallanes port is PHP 2,000 (USD 40 / SGD 55) good for 6 persons.
GIBALON CHAPEL
BUCAL-BUCALAN SPRING
PAROLA BEACH
 MATNOG TOURIST SPOTS
Matnog is blessed with jaw-dropping beaches. You know the kind of beaches that you want to immortalize in pixels; pockets of white sandy shores hemmed in by coconut trees and hugged by turquoise waters.  While Matnog mainland has some cream sand beaches to boot, the best ones are sprinkled off-shore and can be reached by renting a boat for island hopping.
ALSO READ:
SUBIC BEACH
TIKLING ISLAND
JUAG FISH SANCTUARY
BULAN TOURIST SPOTS
Bulan may seem ordinary, but it has got one of the best spots to catch the sunset in Sorsogon province. Sabang beach is a popular hang-out and picnic place of the locals, you can also see Mt. Bulusan here on a clear day and Mt. Mayon from afar.  There's also an ancient Japanese Tunnel hidden under a massive tree at Lake Bariis.
SABANG BEACH PARK
WORLD WAR II JAPANESE TUNNEL
LAKE BARIIS
PADARAW FESTIVAL
How to get to Bulan, Sorsogon
There are direct buses from Manila to Bulan, Sorsogon. Travel time is about 12-14 hours and fare is PHP 800 (USD 16.15 / SGD 22) – PHP 1,000 (USD 20/ SGD 27).
ALSO READ: