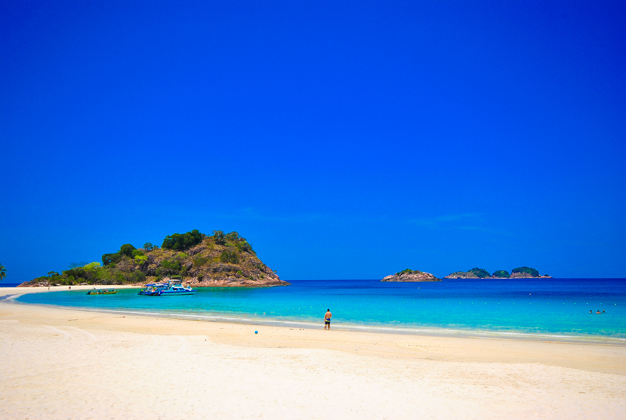 It was a balmy day, the sun is showering its morning blessing; dazzling in the gorgeously placid cerulean waters. I spin ecstatically while examining the bountiful marine life. Multi-hued fishes rendezvous around the gigantic coral plates that accentuate the seafloor. I see clown fish (Amphiprioninae) crown the swaying tentacles of anemones as damsel fish (Pomacentridae), parrotfish (Scaridae) and Moorish idols (Zanclus cornutus) glide by.
This enchantment continues for about half an hour, until Gugun, my videographer friend from Indonesia, sends a gesture to us to ascend. I remove my long fins and burry my feet under the powdery white shore fringed by swaying pine trees. I walk to the other sideof the beach to explore its nooks. Not much to see and do here, except for swimming, snorkeling and perhaps, kayaking. But I like it this way so I can bask in the beauty of the island, just laze around its heavenly shore reading a novel, or just watch people and kids frolic in the beach.      
Pulau Redang archipelago is situated off the coast of Eastern Malaysia.  It is composed of Pulau Kerengga Kecil, Pulau Ekor Tebu, Pulau Redang,Pulau Kerengga Besar, Pulau Lima,Pulau Ling, Pulau Paku Besar, Pulau Pinang and Pulau Paku Keci. Most of the bigger islands here are peppered with mid-range to high-end resorts. But it is Pulau Redang that dominates the area; flocked by local and foreign tourists alike for its beautiful beaches and impeccable snorkeling   spots.      
Malaysia has always been good at developing beaches and other tourist spots, neat and organized. But what I admire most about Pulau Redang is its management's effort to protect the marine life and surrounding habitat here by controlling the impact from human activities. Koperasi Setiajaya Pulau Redang, a cooperative created by the Terengganu government, helps develop and manage socio-economic programs that could improve the livelihood of the residents without endangering its natural resources.
After a few hours basking in the marine park, we transfer to another place – Laguna Redang Resort in Pasir Panjang. This is by far the best beach I've seen in Malaysia, it talcum shore and its admiral water is reminiscent of Boracay without the hordes of tourists.     "Awesome! There are baby sharks!" my Malaysian friends excitedly screamed, as we swim in the heavenly admiral beach. Some of the reefs dappled around Pasir Panjang are nesting grounds for bay sharks. Snorkeling is best here as the water seems calm and even just a few meters from the shore, one can enjoy the company of rainbow-colored fishes.
For someone raised in the Philippines, a country overflowing with paradisiacal beaches, our standard for good beaches is quite high. But Redang Island did not disappoint, it is undoubtedly ravishing.   As we ride back in the ferry, we glide once again through a scene of otherworldly splendor. Wind gust as the daylight bathed us in tranquility. Redang Island as you might have surmised; is one of those beautiful places that I find hard to leave.
How to get there:
PAL flies to Kuala Lumpur from Manila. In Kuala Lumpur, you may take a bus bound for Terengganu or take a domestic flight. To get to Redang from Kuala Terengganu mainland, you need to ride a ferry. The main jetty is at Meran, about 30 km north from the city center. From Merang, the trip to Pasir Panjang takes about 1 hour on comfortable, large speedboats and ferry boats.