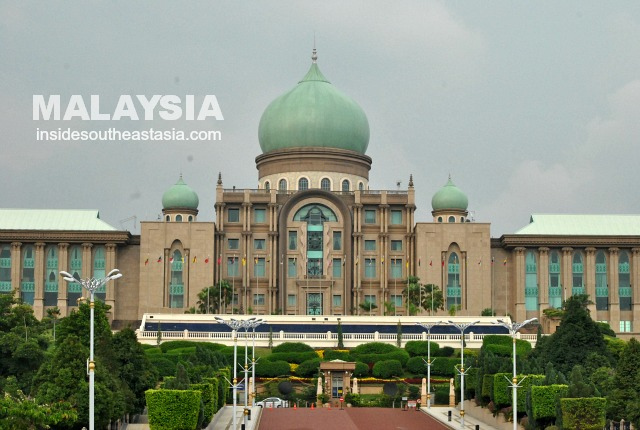 Dubbed as the "Intelligent Garden City", Putrajaya, Malaysia's administrative capital is clad by beautifully manicured landscape and awe-inspiring buildings.
It's the typical setting of various events like the Putrajaya International Hot Air Balloon Fiesta, the Putrajaya FLORIA and the Waterski and Wakeboard Championship and Putrajaya Extreme Games Competition.
Here are some of the top attractions you can find in Putrajaya:
Perhaps the most photographed structure in Putrajaya is the Masjid Putra nestled in front of a man-made lake and nearby the Malaysian Prime Minister's Office. It has colossal pink domes and rose-granite walls.
Sitting next to the rose-colored Putra Mosque is the official residence of the Prime Minister of Malaysia called Seri Perdana. It is composed of 3 blocks: the Residence Block, the Banquet Block and the Main Reception (Protocol Block). Visitors are allowed to take guided tours at the Main Reception Block which offers an we-inspiring view of Putrajaya Wetland.
Hemmed in by amazing assortment of flora and fauna, Putrajaya Wetland is said to be the largest freshwater marshland in this region. Visitors will encounter different wildlife and bird species including migratory birds and water birds. Head to the Nature Interpretation Centre to get more information about the Putrajaya Wetland and indulge on a picturesque view of the marshland and surroundings at the viewing tower.
Taman Botani (Botanical Garden)
Taman Botani is the biggest botanical garden in the country, housing over 7,000 plant species found mostly in Asia-Pacific Region and Africa. Visitors can explore the 3 parts of the Taman Botani – flowering plants, ornamental plants and research and conservation.
Putrajaya International Convention Centre (PICC)
Nestled on top of Taman Puncak Selatan and measuring over 1.3 million square feet, the Putrajaya International Convention Centre (PICC) is the usual host of some of the country's biggest international and regional events. Its architecture is inspired by pending perak (traditional silver belt of Perak) and wau bulan ( traditional kite of Kelantan).
Putrajaya's leading shopping mall is Alamandi Putrajaya. Here you can find mind-boggling retail outlet stores, one-stop entertainment zone which is home to a cinema, game arcades, bowling alley, and karaoke centre. The shopping haven –Souq Bazaar clad by more or less 50 stalls that sells apparel, souvenirs and food also beckons visitors.
Apart from the mentioned attractions above, Putrajaya is also home to Lake Putrajaya, Putrajaya Equestrian Park, Tuanka Mizan Zainal Abidin Mosque (Masjid Besi),Istana Kehakiman (Palace of Justice), National Millenium Monument, Taman Warisan Pertania ( Agricultural Heritage Park), Persiaran Perdana (Putrajaya Boulevard), Taman Seri Empangan and the gorgeous Signature Bridge. You will never run out of things to do in Putrajaya.