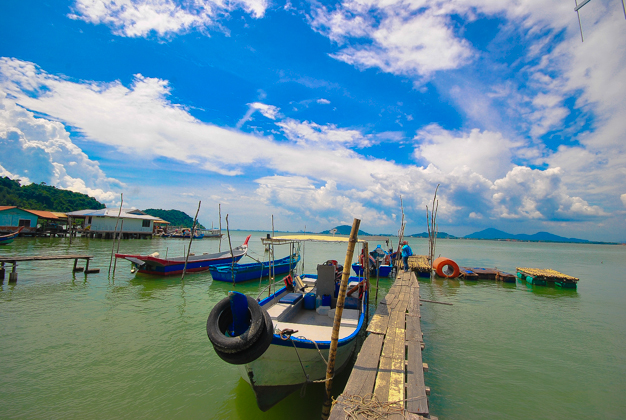 Another homestay experience to try in Penang is situated in Pulau Aman also known as Island of Peace.  It's a fishing village composed of only 300 residents. We were told they only have 1 clinic managed by 2 nurses, 1 school with 13 teachers attending to 28 students only and 11 multi purpose hall.
  It is a great place for a leisurely walk or biking and to get acquainted with the lifestyle of the villagers.  Interesting enough is the tour of a stilt house where they produce seafood products such as becan or shrimp paste. Oddly enough, the shrimp paste is shaped like a brick far from the bottled ones in the Philippines. A wide variety of snacks manufactured by the locals from fish, prawn, shrimps and other seafood are also sold in Pulau Aman.    
It is really awe-inspiring to see that Penang is not only endowed with a stunning variety of heritage buildings and natural scenery, but more importantly, it brims with genuine hospitality and perpetual pride in the Malay legacy.  I will forever remember that in this pastoral place I met pretty people, and I found peace and precious inspiration.
Jom Jelajah Koperasi Homestay:
Homestay Pulau Aman
145, Pulau Aman, 14100 Simpang Ampat
Seberang Perai Selatan, Pulau Pinang
Tel: +6013 459 0330 / +6019 570 8385 / +6019 540 8238
Disclosure: Our Penang Homestay Experience was made possible by Jom Jelajah Koperasi in cooperation with Gaya Travel Magazine.