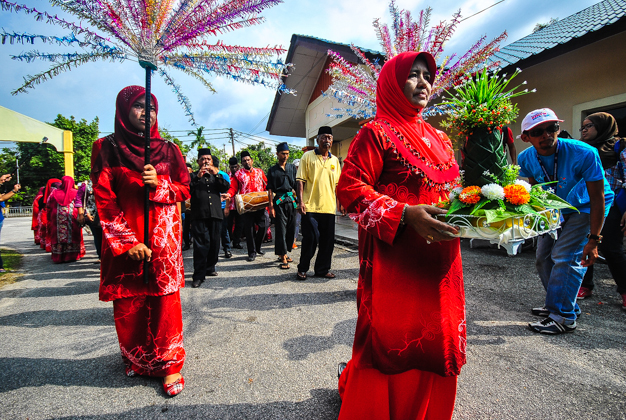 What I like about Jom Jelaja Koperasi, Malaysia's homestay program run by Suruhanjaya Koperasi Malaysia (SKM), is it offers a sampling of the local culture, customs and traditions in a bucolic village.  I remember solo backpacking in Penang 4 years ago, but this time, it is a totally different travel experience.  Beyond the usual heritage and food tour of the region, we got to soak up the traditional Malay culture in a pastoral setting.
Our first stop was Kompleks Warisan Pandai Besi known for its iron-making tools like the iconic keris (kris), a dagger with wavy blade attached to a handle with intricate designs and slipped on a sheath typically made of wood adorned with silver, iron, gold or precious stone and carved with floral motif.   
Ustaz Azhar enthusiastically showed us the traditional way of making a kris while we were ecstatic to try our hand at it. The iron is first heated in an extremely high temperature, and then two people need to hit it with a small and a big hammer.  This procedure is repeated until the eye of the blade is formed. Kris has Javanese origin, tracing its foundation from the Majapahit Empire in East Java, Indonesia sometime in 1361 AD.  It is believed to imbue valor and power on its holder and is typically worn on special ceremonies in the olden days. Due to its cultural significance, kris of Indonesia was declared by UNESCO as a Masterpiece of the Oral and Intangible Heritage of Humanity.
Kris is also popular in other Southeast Asian countries. In Penang, we were told there are two types of Malaysian kris (keris): the Keris Lok and the Keris Sundang.  Just like the Javanese kris, it is also highly revered and plays an important role in Malay culture as it is often used as weapon for silat Melayu – the indigenous martial art (Malaysian style) and is usually worn by Malay men in special occasions.
Jom Jelajah Koperasi Homestay:
Homestay Mengkuang Titi
679 Mukim 19, Mengkuang Titi
14000 Bukit Mertajam,
Seberang Perai Tengah, Pulau Pinang
Tel: +604 370 7587 / +6019 412 7095
Fax: +604 399 7589
Email: [email protected]  / [email protected]
Homestay Sg. Chenaam
Lot 299, Sg. Chenaam 14320 Nibong Tebal, Pulau Pinang
Tel: +6012 509 4368 / +6013 430 2026
Homestay Pulau Aman
145, Pulau Aman, 14100 Simpang Ampat
Seberang Perai Selatan, Pulau Pinang
Tel: +6013 459 0330 / +6019 570 8385 / +6019 540 8238
Disclosure: Our Penang Homestay Experience was made possible by Jom Jelajah Koperasi in cooperation with Gaya Travel Magazine.
.