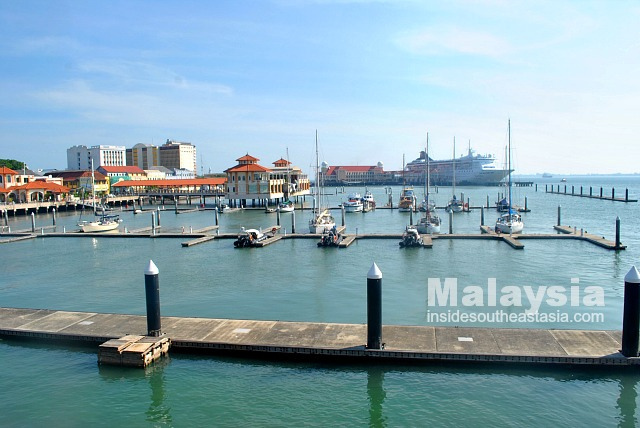 The bustling capital city of Penang named Georgetown is a mind-boggling explosion of  varied cultures, just like most regions in Malaysia.  This interesting city is flanked by gorgeous Neo-Classical and Neo-Palladian style heritage buildings.

Start your day by exploring The Esplanade which houses the soaring Queen Victoria Clock Tower. This beauty was built in 1897 in honor of the British Queen.  Nearby is the 18th century fortress known as FortCornwallis.  Although there isn't much to see here except for a handful of cannons and an interesting lighthouse, it still pays to take a glimpse of its inside, anyway the entrance fee won't cost you an arm and a leg.
A leisurely walk along the Esplanade will most likely seduce you.   Take a moment to sit and enjoy the breath of fresh air by the shore.  Explore the lovely Victorian-inspired government buildings such as the Town Hall, The City Hall and the Court Building.
From the Town Hall, walk a few meters to reach the well-preserved St. George'sChurch, one of the oldest in Southeast Asia.  Its crowded  neighbor is the first Chinese temple in this territory  –  the Goddess of Mercy Templen (Canton-HokkienTemple) dedicated to the goddess Mar
Chor Por.
Georgetown is hemmed by Chinese temples; another one is HainanTemple or The Temple of the Heavenly Queen which served the Hainanese settlers back in the days.  This unassuming temple was built in honor of  to the Sea Goddess Mazu.  On the other hand,  the posh CheahKongsiTemple stands proudly along Cannon Square Street.
Other  places o check out are PinangPeranakanMansion, a beautifully restored Baba-Nyonya house originally owned by a Secret Society leader.   Pinang Peranakan is painted in refreshing min-green, it is filled by grandiose  artifacts and antiques.
The oldest Hindu temple in Penang is located along Lebu Queen Street –  Sri Mahamariamman Temple Walking along Lebu Queen Street.  Nearby sits a mosque named Kapitan Keling Mosque. It has a luxuriously-designed Islamic patterns inside.  Another famous Muslim mosque in the area is the 18th century  Masjid Melayu Lebuh Acheh.