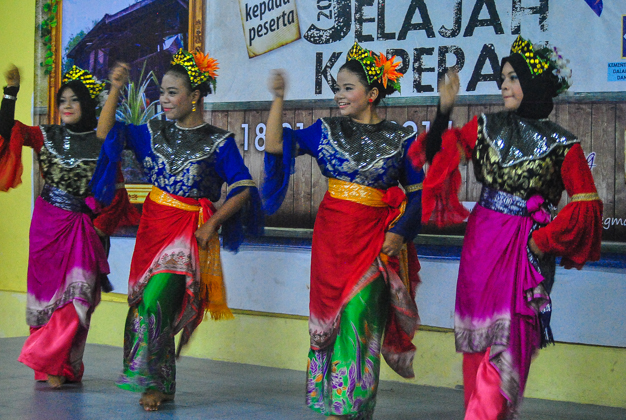 We headed to Kampung Mengkuang Titi (Mengkuang Titi Village) in Pulau Pinang where they offer homestay program for tourists. For a minimum of twelve people in a group, you will enjoy a homestay package complete with cultural show particularly the traditional Malay theater called "Tarian Boria" while indulging on Malay traditional dishes and dining in Malay style.
  Boria is a well-known Malay theater in Penang which traces its origin from India. Charming teenagers garbed in rainbow-hued costumes together with the comedians dance to the beat of traditional Malay drums.   I've witnessed three boria performances in Penang, and they typically commence with a quick witty sketch followed by a song-dance performance featuring rumba or cha-cha. Guests are also invited to join the dancers on stage which we really enjoyed!  
It was such a pleasant experience watching the dancers performs while spoiling ourselves with a traditional Malay feast on the floor.  All Malays should be perpetually Muslims as defined by Article 160 of the Constitution of Malaysia otherwise; s/he needs to give up her ethnic status.  Therefore, meals served in a traditional Malay feast are halal – allowed food in Islamic dietary guidelines. Eating is said to be a matter of faith in Islam. Muslims obey Allah (God) by eating halal or allowed food only and avoiding haram or forbidden food mentioned in the Qur'an.
During our customary dinner, mats were placed on the floor, and then dishes were served at the same time (not in courses) together with a small teapot called a ketor.  Before eating, I washed my hand with water using the ketor. It should be noted that it is prohibited to use the left hand for handling food; only the right hand is used for eating. I noticed the men usually crisscross their feet while the females fold their feet on one side.  There are rules and taboos that guests need to observe when being invited to Malay home for a meal, best to ask your foster family about it.    
Jom Jelajah Koperasi Homestay:
Homestay Mengkuang Titi
679 Mukim 19, Mengkuang Titi
14000 Bukit Mertajam,
Seberang Perai Tengah, Pulau Pinang
Tel: +604 370 7587 / +6019 412 7095
Fax: +604 399 7589
Email: [email protected]  / [email protected]
Homestay Sg. Chenaam
Lot 299, Sg. Chenaam 14320 Nibong Tebal, Pulau Pinang
Tel: +6012 509 4368 / +6013 430 2026
Homestay Pulau Aman
145, Pulau Aman, 14100 Simpang Ampat
Seberang Perai Selatan, Pulau Pinang
Tel: +6013 459 0330 / +6019 570 8385 / +6019 540 8238
Disclosure: Our Penang Homestay Experience was made possible by Jom Jelajah Koperasi in cooperation with Gaya Travel Magazine.