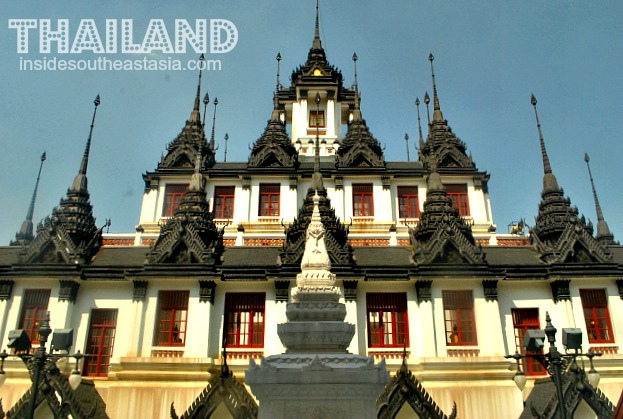 Two of the three metal-roofed Buddhists monks home constructed over 2,000 years ago which were referred to as "Loha Prasat" have long been shattered.  Only one exists today – the magnificent Loha Prasat at Wat Ratchanatdaram complex is the last Buddhist Religious building in the world with metal spire roof.  It has gone through renovation for over  100 years. Today, it stands majestically at the heart of Bangkok City, Thailand with 37 spires symbolizing the 37 qualities for the Buddhism enlightenment.
First Floor
The origin, the legend and the extensive history of how Loha Prasat came to be is proudly displayed on the first floor.  The exhibition encourages the appreciation of its value and significance as Thailand's national architectural heritage and a well-regarded Buddhist worship place.
Second Floor
The Gallery for Dharma Study is located on the second floor of Loha Prasat in Wat Ratchanatdaram complex. It is bursting with books about Buddhism free for public reading.  The square floor is also riddled with several varied golden and black-colored Buddhas.
Third Floor
The third floor of Loha Prasat houses a relic of the Buddha which sanctifies the metal spire building even more, as if the Buddha lived here to guide all Buddhist Thai towards the righteous path of dharma forever.
The InformationCenter of WatRatchanatdaramWorawihanTemple
Open daily between 9:00 AM – 5:00 PM
Contact number: (02) 621 2263-64
How to get to Loha Prasat:
Regular Bus: 5,9,12,44,47,59,68,79,157,503,509,511,512,516
Airconditioned Bus: 1,8,10