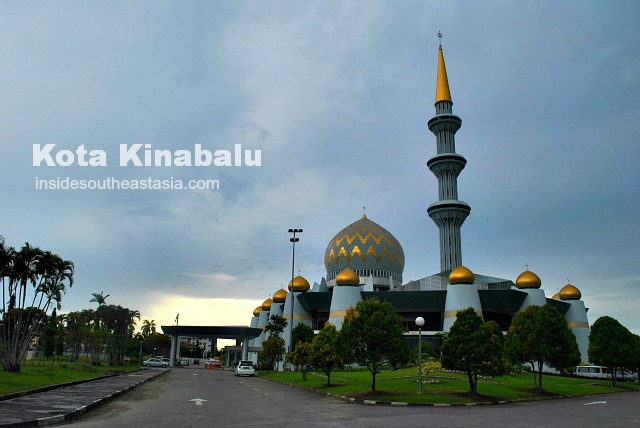 If you think Kota Kinabalu is all about climbing its highest peak, then you are missing a lot.  You don't necessarily have to be extremely adventurous to enjoy its wonders. Why not try exploring the city center since most of the points of interests here can be explored by foot?

Before going on a day tour, it is recommended that you visit the tourism center to get a KotaKinabaluCity map, some hotels have a copy, so don't forget to ask for one.
The Sabah State Mosque and the City Mosque
There are two famed gorgeous mosques in KotaKinabaluCity and both are easily accessible. The Sabah Stat Mosque is noted for its golden egg-like domes while the blue City Mosque is known as the floating mosque as it sits on a man-made lagoon.  Sabah Mosque is open from Monday to Thursday: From 8 a.m. to 11 a.m. & from 2 p.m. to 4.30 p.m., Friday: From 8 a.m. to 10.30 a.m. & from 2.30 p.m. to 4.30 p.m. Saturday & Sunday: From 8 a.m. to 11 a.m. & from 2 p.m. to 4 p.m. The City Mosque is open from 6:30 a.m. to 8 p.m.
Sabah State Museum and the Heritage Village
A few meters away from the Sabah State Museum is a museum of native houses tucked in a lush wilderness and a lovely pond hemmed by lotus plants. These structures made out of nipa, wood and bamboos are replicas of the traditional residence of the tribes of Borneo.  The museum of traditional houses can be reach by foot from the Sabah State Museum. Here, you can also find a replica of the old Borneo Train and Railway.  It is open to visitors daily from 9AM to 5PM.
Monsopiad Cultural Village
MonsopiadCulturalVillage is an eccentric musuem dedicated to the legendary head hunter of the Kadazandusuan tribe.  Its main attraction is the House of Skulls located in front of the museum. It houses the 42 skulls of tribal warriors that were defeated bu Monsopiad.  Other features of Monsopiad Cultural Village includes the monolith where newly cut heads are hanged some 300 years ago, traditional apparatus for rice wine making, rice barn, native cratfts, traditional games of Borneo, and a cultural show featuring traditional dances and songs of the Kadazandusuan indigenous people.
Monsopiad  CulturalVillage is open everyday  from 9 a.m. to 5 p.m.; guided tours at 10 a.m., 12 p.m., 3 p.m. and 5 p.m., cultural dance at 11 a.m., 2 p.m., and 4 p.m.
Australia Place
Named after the Australian soldiers that camped here in the 14th century, this bustling street is now clad by backpacker's guesthouses and old Chinese shophouses. One of its most recognizable and oldest landmarks is the Atkinson's Clock Tower nestled on Signal Hill Observatory, dedicated to Francis George Atkinson.
Tunku Abdul Rahman Marine Park
What's great about Kota Kinabalu city proper is its proximity to its lovely beaches which is accessible by speedboat from JesseltonPort.  There are five postcard-perfect islands of Tunku Abdul Rahman Marine Park that is open to visitors : Mamutik Island, Manukan Island, Sulug Island, Gaya Island and Sapi Island.