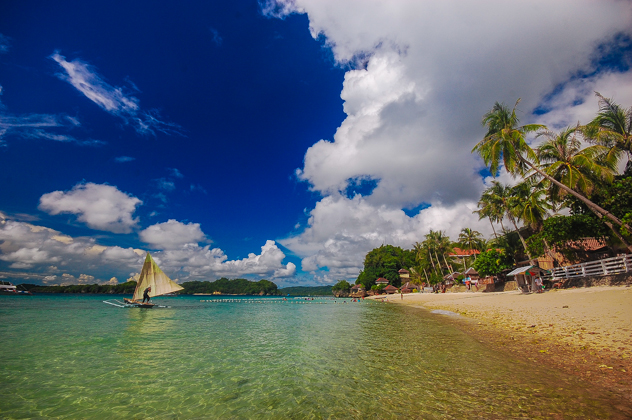 Tucked between the island of Negros and Panay, Guimaras is kissed by cerulean waters and hemmed in by sprawling countryside.  Just the mere mention of this tiny province in Western Visayas connotes images of sweet mangoes; reportedly home to more or less 50,000 mango trees.
For first-timers here, Jordan, the capital of Guimaras, has a modest tourism office near the wharf that offers assistance to visitors.  For solo adventurers or small groups, a low-cost way to get around the island is by chartering a tricycle, nonetheless, if you have the luxury of time, you can take the passenger jeep. For large groups, renting a multi-cab would be wise.
After the customary countryside tour of Guimaras, we recommend you explore the the bounties offshore. A favorite jump off point for island hopping is Alibuhod Beach in the town of Nueva Valencia. It is an idyllic spot for swimming due to its placid waters hugging its sandy shore.  To charter a boat, prepare around Php 500 for the first hour and Php 150 every succeeding hour.
The usual first stop of the island hopping here is either the Lawi Marine Turtle Rescue Center or the Southeast Asian Fisheries Development Center (SEAFDEC), an aquaculture research center that conducts artificial breeding of fishes like lapu-lapu, milkfish and abalone The next stop is Ave Maria Island, an island dotted with rock formations and has a patch of powdery white sand, an ideal spot for swimming and picnic.  Another interesting stop in Brgy.Lawi is Baras Cave, a small cavern with an opening wide enough to accommodate an outrigger boat. It is sprinkled with cave formations and a good number of stalactites not to mention that the jade-colored water inside also tempt tourists to take a plunge.
Natago Beach is best known for its unassuming native abode sitting on its cliff.  Like most islads in Guimaras, it has cream powdery sand and calm waters that are perfect for swimming.  The laid-back Baras Cove and Beach Resort is an idyllic island hide-away; it is surrounded by small islands and its rugged cliff is dotted with native cottages overlooking the azure sea. Isla Naburot on the other hand is perfect for lounging. It has a lovely stretch of pristine white sand lapped by tranquil waters and coral reefs within reach from the island.