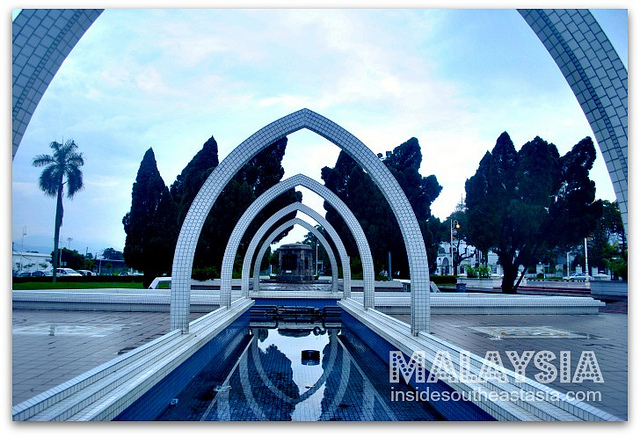 Remnants of its glorious past loom over Ipoh's commercial district, this colossal municipality of Perak is dubbed as " The Hill City" because it is clad by soaring peaks.  Discover the rich and immense history of Ipoh through its heritage trail.

Take a walk through its old-world pavements and cobblestone alleys dappled with soaring age-old buildings. Marvel as you come face to face with pastel-colored Chinese shops and eye-candy Indie boutiques.
Here's a list of the timeless tourist attractions that you will encounter when Ipoh:
Ipoh Town Hall
Who would have guessed that the stately IpohTown Hall fronting the iconic Ipoh Railway Station dates back to 1914?  Yes, this well-preserved old colonial building which has beautiful turrets and pillars is one of the oldest structures in the region.
Perak Cave Temples
Ipoh is dappled with famed pilgrimage sites for Chinese Buddhists such as Kek Long Tong, Sam Poh Tong  Temple and Perak Tong. Kek Long Tong temple is home to the fat Chinese Buddha on the same limestone hill where Sam Poh Tong temple is located.  While, the magnificent Sam Poh Tong temple prides itself as one of the largest cave temples in Malaysia.  It is set in a well-manicured garden and houses an extensive collection of Buddhist artworks. Perak Tong Temple is home to a soaring 15 meter golden Buddha statue and a massive old bell.
Ipoh Railway Station
If there is an award for the most imposing train stations in Malaysia, Ipoh Railway Station will most likely win it.  This white-washed building prides itself with stunning domes and horseshoe arches reminiscent of Moorish revival architecture.  The trains here can reach as far as Thailand and Singapore.
Little India
What sets Ipoh apart from its neighboring towns is its flourishing blend of Asian culture. With over 147 heritage buildings to flaunt, it beckons heritage advocates and history geeks.  Take a stroll in the vivid community of Little India. Savor that pungent smell of Indian spices, herbs and cuisines and be dazzled by the glimmering star in a sweeping number of  shops – artsy sari and kaleidoscopic traditional Indian costumes on display!
Kellie's Castle
The apricot-colored colossal edifice sits on top of a rolling hill.  This stately Kellie's Castle boasts of Moorish-inspired windows, wine cellars,  walls and arches reminiscent of Greco-Roman designs, and a space supposedly to be used for the first elevator in Malaysia.  Based on anecdotes, Kellie's Castle is a gift of  a wealthy Scottish plantation owner William Kellie Smith to her wife. He wanted to create a castle like those in Scotland so she would feel at home. Unfortunately, a series of ill-fated events struck the family, and the ambitious castle was never completed.
Chinese Shop houses
Ipoh has a lively community of Chinese, yes, they have their charming Chinatown! In fact, if you stroll down the commercial hub rows and rows of Chinese shop houses will greet you. Some are well-restored and brightens the modest pavements, while others unfortunately need some tender loving care.
Masjid Negara Mosque
Constructed in 1912, the massive Masjid Negara Mosque is one of the oldest mosques in the region. The center minaret is lapped by bulging tangerine domes.  Masjid Negara Mosque stands proudly in front of the Birch Memorial Clock Tower, a square shaped tower built in honor of the first British inhabitant of Perak.