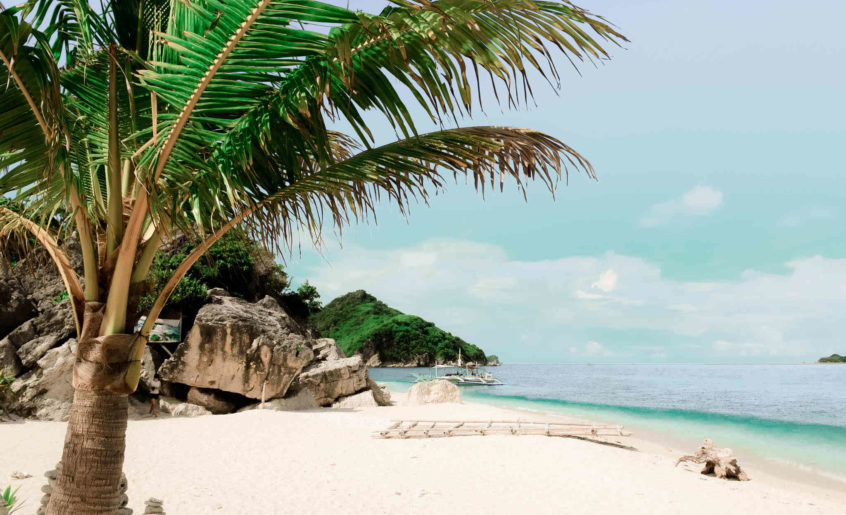 The ruggedly enchanting Gigantes Island in Carles, Iloilo has beckoned tourists in recent years. Thanks to the tropical islands sprinkled off its coast, abysmal caves and dirt cheap seafood. Though Gigantes Island is part of Iloilo provinces, it is also accessible via Capiz.
While most tourists would come here for day tour, our group opted to avail of the 2 days 1 night private tour of Gigantes Island arranged by Las Islas Travel and Tours.  So we stayed overnight at Maruja Flora's Island Paradise Resort, the only resort on Cabugao Gamay. Below is our itinerary, arranged by Las Islas Travel and Tours, if you want the same hassle-free tour, contact them at the following:
LAS ISLAS TRAVEL AND TOURS
 Punta Dulog, Pueblo de Panay, Brgy. Lawaan. Roxas City, Capiz
Contact#: 0917 709 3856/ 0939 534 0828 / 036 521 0725

www.lasislas.ph


E-mail: [email protected]
 GIGANTES ISLANDS  TRIP ITINERARY 
DAY 1
| | |
| --- | --- |
| TIME | ACTIVITIES |
| 02:00 PM | Late lunch at Hilltop Restaurant, Café Terraza, Pubelo de Panay |
| 03:00 PM | Quick Roxas City Tour : Roxas Cathedral, Manuel Roxas House, Roxas City Museum, Roxas City Capitol, Roxas City Bridge |
| 05:30 PM | Snacks and sunset viewing at Emmanuelasa by the Sea |
| 07:30 PM | Seafood Dinner at Timplado, Baybay Beach |
| 9:00 PM | Overnight at Hotel Veronica |
The elegantly-preserved city center of Roxas City  in Capiz is a culture vulture's delight. Here, the gigantic Roxas Cathedral (Immaculate Conception Metropolitan Cathderal Parish), just a stone's throw away from the Capiz Capitol, Roxas City Fountain and Roxas City Bridge, crowns the frantic plaza. If it weren't for the unforgiving sun, a walking tour around the heritages sites dappled around the area would have been ideal.
So we went to the two story heritage house of Manuel Roxas, the first President of the country, proudly standing at the corner of Zamora and Rizal Street.  Our next stop was the Panublion Museum, originally an age-old water tank that now displays artifacts, indigenous clothes and memorabilia of the late President Manuel Roxas.
After visiting the historical edifices dappled around the city, we made our way to Emmanuelasa by the Sea, an artsy bed and breakfast situated by the beach. The place is owned and designed by artist Clay David and her brothers.  It's a perfect place to unwind with a cup of coffee and really tasteful home-cooked pasta. Contact the owner before proceeding here at +63 917 882 2162.
Las Islas Travel and Tours took us to Timplado Restaurant along Baybay Beach for dinner.  Not to miss is their native chicken binakol sa kawayan, a tasty soup which will make you forget your name. And since you are in the Seafood Capital of the Philippines, who could resist a plateful of seafood especially the diwal, scallops and the dirt cheap oyster here!?  Timplado also offers Korean and Japanese dishes for a change, so if you are craving for Asian cuisines while in Roxas City, this resto tops the list!
Timplado
Baybay Beach, Roxas City
Mobile #: 0919 447 6349 or 6431 737
Cafe Terraza
Sacred Heart of Jesus Ave, Roxas City, Capiz
Phone: +63 36 6660 237 / +63 917 312 1498 / +63 939 939 2011
Hours: Open 6AM–10PM
Day 2
| | |
| --- | --- |
| TIME | ACTIVITIES |
| 08:00 AM | Breakfast at Hotel Veronica |
| 09:00 AM | Continue Capiz Tour : Sta.Monica Churchin Pan-ay and Capiz River Cruise at Palina Greenbelt Eco-Park |
| 11:00 PM | Lunch at Café Terraza |
| 12:00 PM | Check out from Hotel Veronica. Travel to Gigantes Island arranged by Las Islas Travel and Tours |
| 03:00 PM | ETA Gigantes Island. Check-in at Maruja Flora's Island Paradise Resort on Cabugao Gamay |
| 05:30 PM | Sunset watching |
| 07:00 PM | Dinner and Socials |
| 09:00 PM | Lights Out |
After our arduous Antique adventure the previous day, we didn't want to leave our super comfy bed at Hotel Veronica, one of the most-sought after hotels in Capiz. But the thought of sunbathing on a white sandy beach hugged by cerulean sea changed our mind. So after our breakfast at Hotel Veronica (rooms here come with a free breakfast), we continued our Capiz Tour. 
Hotel Veronica
Pueblo De Panay, Lawaan, Lawaan, Roxas City (Capiz)
Check room rates here
From Roxas City, we traveled to the neighboring Pan-ay, about 15 minutes away by land. This sleepy town is the home of the Biggest Catholic Church Bell in Asia.  Interestingly, this colossal church bell is made from 76 sacks of coins donated by the residents!  The iconic bell is now hanging at the bell tower of the gorgeous Spanish-era Sta.Monica Church that is an attraction in itself.  Also check out the Sta.Monica Museum adjacent to it.
The friendly, knowledgeable guide here can take really good photos of visitors.  Donations to preserve the heritage here are highly encouraged.
Next we headed to Palina Greenbelt Eco-Park, where visitors can enjoy a scenic river cruise while dining. If you visit during weekends at 8:30 AM, you can join the cruise for only Php 100 per person inclusive of snacks.
Palina Greenbelt Eco-Park
Contact #: +63 910 609 7475
After our quick Capiz Tour we wound our way to Bancalan Port in Carles, Iloilo our jumping off point to Gigantes Island, about an hour and a half away from Roxas City, Capiz.  By the way, Las Islas Travel and Tours offers Roxas City and Capiz Tours for only Php 500 per person.
After paying the Tourism and Environmental Fees at Carles Tourism Office at Bancalan Port, we embarked on a 2 hour trip aboard a large outrigger boat to Cabugao Gamay in Gigantes Island.  We immediately checked-in upon arrival at the only resort in the island – the spartan Maruja Flora's Island Paradise Resort. And because it was off-season (October) during our visit, we blissfully had the whole island to ourselves.
Day 3
| | |
| --- | --- |
| TIME | ACTIVITIES |
| 07:00 AM | Breakfast |
| 08:00 AM | Land Tour in Gigantes Norte Island (Bakwitan Cave and Lighthouse Tour) |
| 10:00 AM | Back to Cabugao Gamay |
| 11:00 AM | Seafood lunch at Maruja Flora's Island Paradise Resort |
| 12:00 PM | Gigantes Island Hopping Tour: Cabugao Gamay, Cabugao Dako, Tangke Lagoon, Antonia Beach, Bantigue Sandbar |
| 05:30 PM | ETA Cabugao Gamay. Sunset Watching |
| 07:00 PM | Dinner  and Socials at Maruja Flora's Island Paradise Resort |
| 09:00 PM | Lights out |
Perhaps Day 3 was our much-awaited day that time because it means we can finally explore Gigantes Group of Islands and see for ourselves the Instagram-worthy islands we used to just see online.
But before the actual island hopping, we journeyed to Gigantes Norte Island, a laidback fishing village in Gigantes Island for the land tour. We rode habal-habal (motorcycles) to the north of the island to visit the ruins of the olden lighthouse.  Here we met cutesy kids selling shell products. Amusingly, you can found tons seashells in Gigantes Norte Island, like mountains of them!
Right after, we rushed to Bakwitan Cave, only a few of us dared entered because we were still sort of "distressed" because of the grueling hike in Antique prior to this trip.
Our boat took us back to Maruja Flora's Island Paradise Resort for our seafood lunch. And I couldn't believe that we were devouring a plateful of wasay-wasay (fresh lip black oyster) and scallops sold at Php 1 each!
From the gorgeous Cabugao Gamay where we hiked up a rock formation for a neck-swiveling view of the surrounding island-speckled sea, we hopped on to the nearby Cabugao Dako.  This underrated island is our favorite spot for swimming because of its fine powdery sand and crystal clear turquoise water. Adventurous travelers can also jump off the cliff here like what our friends did!
For those wanting to explore the underwater world of Gigantes Island, Antonia Island is the more popular beach for snorkeling.  But since it was low tide and off-season during our visit, we settled for quick beach-bumming.
Meanwhile, Tangke Lagoon is another popular spot for swimming in Gigantes Island.  And this cove is so picturesque, reminiscent of Coron, El Nido and Caramoan because of the soaring limestone cliff hugging the shamrock-colored lagoon.
Luckily, it was just reopened during our visit, but prepare for the thrilling transfer from your boat to the make-shift harbor here because of the maddening waves!
Before our Gigantes Island Hopping Tour ended, Las Islas Travel and Tours, decided to drop us at Bantique Sandbar.  The cream, powdery sand here is lapped by azure sea, another impeccable beach for swimming!
We ended our island hopping tour in the reverie of the sunset at Cabugao Gamay. The whole island was turned to gold by the sun as it shimmers against the deep green leaves of coconut trees and the drab gray limestone massif, affixing the glamour of nature's evocative artwork.
Day 4
| | |
| --- | --- |
| TIME | ACTIVITIES |
| 07:00 AM | Breakfast at Maruja Flora's Island Paradise Resort. Check out. |
| 08:00 AM | Travel back to Roxas City, Capiz |