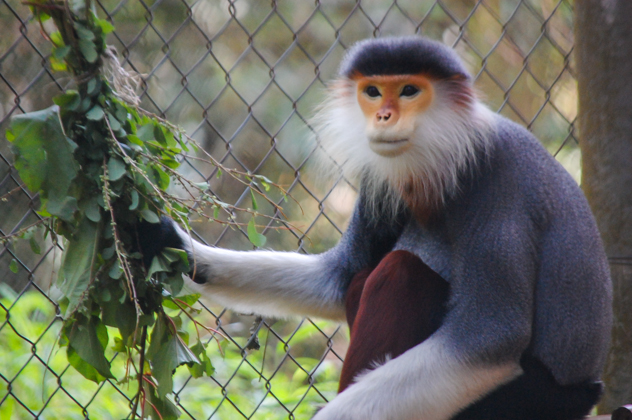 We were winding past jungle-clad karts limestone massif and honey- colored rice fields.  It is winter season in Northern Vietnam; local farmers with sun-kissed skin till their farms, domesticated ducks meander on the winding streams, water buffaloes graze the vast pastoral lands, while the cold breezes permeate the bucolic atmosphere.
We are thrusting back time to the mountains of the ancient province of Ninh Binh on the Red River Delta.  For the past 3 days, I have been exploring this province with a local guide, riding at the back of his trusty motorbike.  And today, we are bound for Vietnam's first national park and the country's largest – and one of the most important – nature reserve.
Cuc Phuong National Park was transformed into a forest reserve in 1960 and 2 years after, it was recognized as a national park.  It has been said that President Ho Chi Minh himself took time off from the war to spend his time in consecrating this area, which is sitting at the foot of the northern Annamite Range, as a national park. Hemmed in by karsts massif interrupted by open meadows and verdant valleys, Cuc Phuong National Park is home to a good number of cave systems.
Hiking is a great way to explore the park, visitors can visit a Muong village where river rafting activity is offered, and one can also trek a gigantic 1,000 year-old Tretrameles nudiflora tree and go spelunking.  The ancient forest of Cuc Phuong National Park flaunts of over 2234 vascular and non-vascular plants, 122 species of reptiles and amphibians and 135 mammals, including the Clouded Leopard, Delacour's Langur, Owston's Civet and Asian Black Bear, according to its main website.
But my main goal here is to visit the Endangered Primate Rescue Center, dedicated to the rescue, rehabilitation, breeding, research and conservation of the endangered primates of Vietnam.  It takes care of over 150 monkeys bred in captivity or recovered from illegal traders.
I enter the gate of the park; my guide assists me to the ticket office where a park guide is tasked to take visitors to the center.  I wave at him, and we agree meeting at the gate after an hour or so.
As I go inside the Endangered Primate Rescue Center, I see photos of primates displayed on bulletin boards.  The park guide shows the way to the area where a good number of languors, gibbons, macaques and monkeys are housed.   "Those are Delacour's langur," my guide points to a monkey clad in black fur and dappled with white markings on the face and distinctive creamy-white fur over the rump and the outer thighs.  It is one of the world's most endangered primates, a species of lutungs endemic to Northern Vietnam.
"The lutungs are a group of Old World monkeys that make up the genus Trachypithecus.  Their range is divided into two parts; one part is much of Southeast Asia, and the other part is extreme southern India and Sri Lanka," he adds.   "Look! Why is the baby draped in tangerine fur?" I ask.
"Interestingly, their offspring are born with orange fur. The fur begins to transform into black after about four months,' my guide reveals.
My guide leaves to cater to another tourist, he gave me time to explore the area, and I excitedly face the other species in the park including the Indochinese langur, black langur, grey langur, balck gibbons and the female gibbons of the Nomascus taxa that has yellow fur.
But my personal favorite is the red-shanked duoco langur characterized by a black belly and gray upper arms, white forearms. Its upper legs are black while the lower legs are charmingly reddish, face is creamy with white around the mouth and its whiskers and tail are white.
Meanwhile, fronting the Endangered Primate Rescue Center is the Turtle Conservation Center.  Another guide takes visitors and explains the turtles residing in the unassuming center.
"The aim of the center is to establish a safe and sustainable future for Asian turtles, and to ensure that no further turtle species become extinct in the region.  We implement strategic interventions that directly contribute to the conservation of Asian turtles, helping to ensure efficient use of limited resources, as well as developing capacity, strengthening leadership, and ultimately effecting positive attitudinal and behavioral change within society, "a local Vietnamese guide explains.
Here, I come face to face with turtles that could be mistaken for statues at first glance like the pond turtle (Mauremys annamensis), the red-eared slider (Trachemys scripta elegans) and the Indochinese Box Turtles (Cuora bourreti)). The legendary Hoan Kiem Turtle (Rafetus swinhoei) also known as Swinhoe's Softshell Turtle in northern Vietnam, largely recognized as the most endangered turtle species in the world, can also be seen here.  There are also great information displays, and incubation and hatchling viewing area.
It's amazing to learn how the center successfully breeds and releases turtles of different species, and their effort in conducting conservation-focused research and raising public awareness about the importance of protecting Vietnam's turtles.  For a province-dweller like me, visiting such places is like journeying to the core of my own being, like tapping the ancient nucleus of my brain.  And meeting the species believed to be our ancestors is like traveling back into the origin of our existence.
---
RELATED POST:
---
How to get to Ninh Binh, Vietnam 
Cebu Pacific Air flies between Manila and Hanoi. From Hanoi, it takes 3-4 hours on the road to reach Cuc Phuong National Park.  If you wish to take a passenger bus, head to Giap Bat Station in Hanoi. Check out the schedule for Nho Quan or Ninh Binh.  From Nho Quan, take a taxi or motorbike.
 There is also one bus per day that goes straight from Giap Bat to the park.  Alternatively, you can take a train fro Hanoi to Ninh Binh.  Or hire a car, it is more expensive but it allows you to go around easily.
---
WHERE TO STAY IN NINH BINH, VIETNAM
18 Phan Dinh Phung Street, Van Giang Ward, Ninh Binh City Center
Hai Nham, Ninh Hai, Hoa Lu District
Bai Dinh Pagoda, Gia Sinh Village, Gia Vien District
Hai Nham Hamlet, Ninh Hai Commune, Hoa Lu District, , Tam Coc – Bich Dong Caves
 No 9, Tam Coc – Bich Dong Tourist Center, Tam Coc – Bich Dong Caves