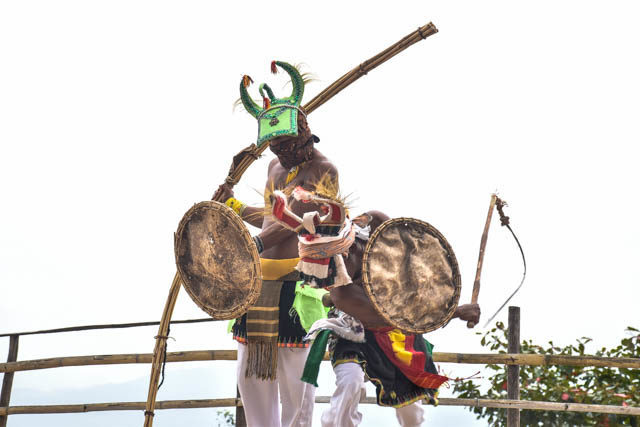 On a bright sunny day at the palm-fringed Kampung Melo, a sub-village of Liang Ndara on Flores, a group of Manggarai people clad in their traditional outfit welcomed us. The village chieftain spoke with the assigned head in our group and performed a modest ritual. Each of us was handed with hand-woven scarf and a local wine made from palm syrup called sopi. Visitors can also visit the palm wine production here.
The Manggarai are indigenous people of Flores thriving across Manggarai province. Their political system is clan-based. Before the arrival of the Dutch colonizers, extended families typically live in one house. They have a good number of interesting rituals along with ethnic dances, which may not be as famous as Balinese dances, but are likewise as captivating.
Among the time-honored dance of the Manggarai is the caci, a ritual whip fight. Traditionally, it is performed during the Penti, which is a festival that marks the beginning of a new harvest year and usually performed in 1-3 days involving animal sacrifice. Caci is also performed during birth, marriage and funerals and symbolizes many philosophical values of sacrifice, sports and solidarity among the Manggarai people. Today, local cooperatives have developed the ritual into a cultural attraction in order to provide additional income to the Manggarai people.  But instead of a full day show, its length has been radically condensed.
The performers are typically bare-chested men, wearing white pants topped with hand-woven textile called songket. Also attached on the hip is a belt with a string of tiny bells and same as that worn around the ankles to create a unique sound. They tie their head with a colorful wooden or leather mask around which is draped with Manggarian sarong and buffalo or goat hair that hangs down at the back.
Each of the dancers is also holding Caci gears such as whip, mask, stick and a shield that are hand-crafted from local materials like bamboo, rattan and leather. Interestingly, the gears used in Caci have attached symbolism. The Manggarai believe that the whip represents the male, the father and the sky, whereas the shield signifies a woman. So during the performance, when the whip slaps the shield, the act denotes sexual unity as a key foundation in creating a new life.  Meanwhile the mask with two horns symbolizes the strength of a water buffalo.
Women also take part in the performance; they are the ones playing the traditional drums and the massive gong that serve as the background music of the caci. Meanwhile, elderly men chant rhythmic songs and ritual that are key part of the performance.
Although some may argue that the Caci show in Melo Village is no longer authentic, as it is performed mainly for tourists,  I'm still glad that I was able to witness the incredible cultural show.  Before the program was created, the community was consulted on how they want to represent themselves to the visitors.
It is touching to see the smiling faces and how proud they are to perform their traditional dance. Everyone seemed willing to pose for photos without asking for money, and most of them were trying hard to converse with us, despite the language barrier. The Caci dance allows the Manggarai people to express their cultural pride and infuse Melo village with identities that best represent their interests and values.
Aside from the Caci dance, the women here also performed other cultural dances such as the Tetek Alu, a traditional bamboo pole jumping dance (which is similar to the Tinikling in the Philippines) and the Ndundu Dake dance.
While in the area, we also made time to visit Taman Becaan Pelangi which means Rainbow Reading Park, founded by Nila Tanzil, an Indonesian. "I visited Flores to go diving, but after a couple of weeks I got the hang of it.  I felt that I needed to do something else," she tells.  She found out that many children living on remote communities such as those around Liang Ndara cannot read. Right then, she knew what was needed, she had to build opportunities for the kids, so that they could start reading, learn to use their creativity, and open their minds to the world of words and stories.
In 2009, Taman Becaan Pelangi was born, a non-profit organization focuses on establishing children's libraries in remote areas of eastern Indonesia.  In its early days, Tanzil worked on it alone and funded it with her own money before donations and partners took notice.  To date, Taman Becaan Pelangi has built over 30 libraries on 14 islands, including Flores, Komodo, Rinca, Messah, Lombok, Sumbawa, Timor, Alor, Sulawesi, Banda Islands, South Halmahera and Papua. It has provided these libraries with over 50,000 children's books, and has touched the lives of over 6,000 children.  Taman Becaan Pelangi aims to encourage and nurture children's interest in reading by providing access to good books. The NGO believe this is critical for a child's education, and broadens their horizons and opportunities.
Without doubt, a trip to Melo Village before going to Komodo National Park is a must-experience. Meeting genuinely kind and determined people like Tanzil, who wants to improve poverty in nearly forgotten communities is truly heartwarming.  I left with a smile in my face knowing that this remote community in Indonesia has a bright future, thanks to Tanzil and her outstanding project.
---
How to get to Kampung Melo, Flores
From Manila, there are several airlines like Philippine Airlines that fly to Bali.  At Bali Aiport, transfer to a domestic flight bound for Labuan Bajo.
Melo Village is located around 45 minutes by car/motorbike from Labuan Bajo.
You can also go by public transportation. You can also avail of tour package to Melo Village through Travel Sparks, contact [email protected]
---
For updates on the best places to visit in Indonesia
Follow th official social media accounts of Wonderdul Indonesia
Facebook: Indonesia.Travel
Instagram: @indtravel
Twitter: @indtravel
Google +: Indonesia.Travel
Website: www.indonesia.travel