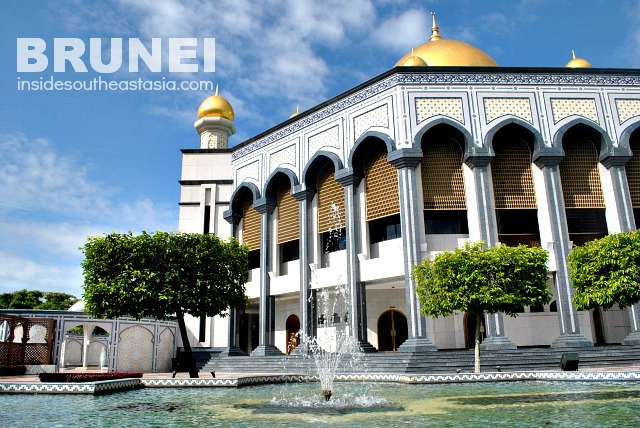 Where is Brunei? Sandwiched between Sarawak, state of Malaysia and Sabah, the tiny yet wealthy sultanate of  Brunei Darussalam is clad by lush jungles and oil-rich land.  Unlike most countries in Southeast Asia, it does not rely on tourism to boost its economy but it does not mean you have to skip it because its is such a beautiful and peaceful country. Most tourists who find their way to Brunei use it as an entry point for either Sarawak or Sabah. But this rich country deserves more than just being a stop- over, with its rich culture, verdant wilderness, elegance and serenity, it will certainly caught your heart.
How to get to Brunei:
By Air:
Brunei International Airport is the most important airport of the sultanate. Budget airlines like Cebu Pacific has regular flights to Brunei from Manila (Philippines) while Airasia has flights from Australia (Melbourne/Goldcoast/ Perth/Syndey), Singapore, India (Kochi), Indonesia (Bandung/Jakarta/Bali/Surabaya), Malaysia(Kuala Lumpur), and Thailand (Bangkok).  Singapore Airlines fly five times a week from Singapore while Malaysian Airlines depart daily from Malaysia (Kuching, Kota Kinabalu and Kuala Lumpur). The Royal Brunei Airlines has daily flights departing from Dubai, London, Singapore and Malaysia (Kuala Lumpur/Kota Kinabalu) and frequent flights from Manila (Philippines), Jakarta/Surabaya (Indonesia), Bangkok (Thailand), Melbourne (Australia) and China (Hong Kong/Shanghai).
How to get to Bandar Seri Begawan (BSB) from the airport:
The cheapest way to get to Bandar Seri Begawan (BSB) from Brunei International Airport is by taking the Purple bus to the city center for B$1. Its departure coincides with the international flights arrival; from 7:00 AM to 6:00 PM. It will stop at Bandar Seri Begawan (BSB) bus terminal located in Jalan Cator at the heart of the city center.  Ask for directions from the airport staff, it is located at the end of the car park when you turn right from ARRIVALS.
Alternatively, if you are 4 in a group or more, you may just share a taxi to Bandar Seri Begawan for about B$35, travel time is 20 minutes.
Most upscale hotels offers free pick up from Brunei International Airport.
For tourist information, you may approach the Visitor Information Kiosk at Brunei International Airport which is open daily from 9:00 AM to 8:00 PM.
When leaving Brunei International Airport, a departure tax of B$5 is required for those flights bound to Kuching and Kota Kinabalu and B$12 to other international airports.  But if you're flying via Royal Brunei Airlines, no need to pay the departure tax as it is already included in the airfare.
Brunei airport code is BWN.
By Sea:
Boat to Brunei leave daily from Pulau Labuan (Sarawak )and  Limbang and Lawas (North Sarawak).
By Land:
You may also take a bus bound to the far western territory of Brunei from Miri (Sarawak).