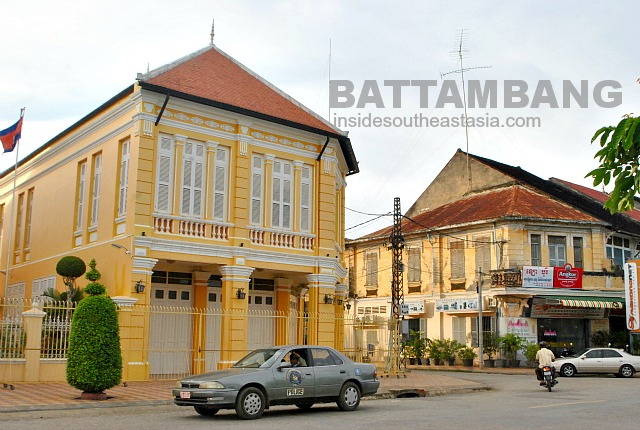 Battambang, a province of Cambodia, is clad by vast agricultural land, a handful of hilltop Angkorian temples and lovely old French colonial buildings and gorgeous Buddhist wat and pagodas. This old world charm remains untainted by mass tourism despite its proximity to its well-known neighbor – Siem Reap.
TOP ATTRACTIONS IN BATTAMBANG
FRENCH COLONIAL BUILDINGS
Take a leisurely stroll at the bustling commercial hub and you will marvel at the streets flanked by interesting old colonial buildings and shop houses. Most of them though are quite forgotten yet some remains well-preserved.
TA DAMBANG STATUE
Soaring at 6.5 meters high, the legendary Ta Dambang Kro-Nhoung Statue is the symbol of BattambangProvince. It is kneeling at the heart of the intersection of the highway to Bantey Meanchey and Phnom Penh. It is highly respected by the locals; in fact, many of them pay a visit here to pray especially during the Sila-day.
BATTAMBANG CIRCUS
Hail a tuktuk to take you to Battambang Circus which features interesting performances every Monday to Thursday at 7:00 PM.  It is meant to support the NGO School for deprived kids. Dinner costs $ 6-$10.
BATTAMBANG TEMPLES
Go temple hopping around Battambang city and marvel at the intricate details of the Buddhist pagodas and temples.
NORRY / NORY/ NORI BAMBOO TRAIN

Not to miss in Battambang is the ride on the traditional bamboo train. This unique vehicle is built out of bamboo and mounted on train axles and run by a small tractor or motorcycle engine. To get here you can arranged a tour with a motorbike or tuktuk driver which normally includes a tour to the temples of Battambang on the countryside. One day tour costs around $16. And once you're at the bamboo train station. You have to pay $5 each (minimum of 2 / $10 if you are alone) if you want to experience the exciting ride.  Recommended time to visit is late in the afternoon so you can catch the majestic sunset at the bridge.
GOVERNOR'S HOUSE
Also called Governor's Resident, old colonial government building with French-inspired architecture this sits quietly in the commercial district of Battambang.  It was built in 1905 and was designed by Italian architect Lokmchas Katha Thorn Chhum (the lord governor).  To date, it still serves as an administration building. The Governor's House is one of the most photographed buildings in Battambang.  Tourists can take photos and take a leisurely stroll outside, entering the building is prohibited (for tourists).
Battambang Museum
Take a peek at the rich heritage, artistry, and religion of BattambangProvince y paying a visit to BattambangMuseum. It is located at street 1 near NeakBanhTeukGarden and a few meters away from Governor's House. It houses important ancient artifact, Khmer Arts, and Buddhist images, among others.
Cultural Village
Cycle south of Battambang City to visit the cultural villages of the province such as Wat Kor Village near the Sangke River which houses old traditional wooden houses.   Ksach uoy Village is hemmed by vast pastoral land and varied fruit plantations while Kampong Seyma is bursting with green rice fields.
Banan Temple
South of Battambang City, on the peak of Banan mountain, a temple was constructed during the empire of King Udayadit Yavarman and King Jayavarman, it is now known as BananTemple. To reach this, you can charter a tuktuk o motorbike and scale up the 165 steps.  But if you're taking the tuktuk or motorbike tour, this is included in the itinerary.
EK PHNOM TEMPLE
This 11 century temple was built out of sandstones. It is akin to the temples found in Angkor city. The towering square-shaped temple is fringed by two moats and a soaring banyan tree.
---
Do it yourself bike tour around Battambang City is possible, however to reach the hill temples and the bamboo train, better to avail of the tuktuk Battambang Tour. Alternatively, you may also avail of the Battambang tour package from Siem Reap or from you hotel in Battambang.