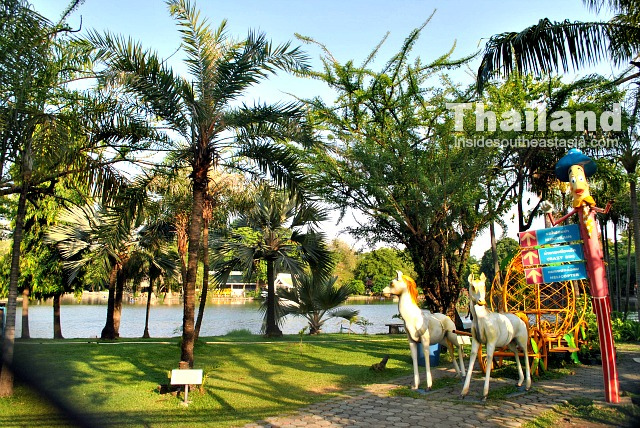 isaIf you're not sure where to take your kids this summer on your vacation to Thailand, we've rounded up some of the most interesting child-friendly destinations in the country:
Phuket Fantasea – Whisk your kids away to Phuket Fantasea and let them enjoy the marvelous night time cultural theme park.  Phuket Fantasea is a beautiful blend of traditional Thai culture performances and Las Vegas-inspired fantasy show.  Marvel at the spectacular feat clad by performing elephants, hundreds of Thai performers wearing colorful Thai dress, and be surprised by the aerial ballet, pyrotechnics and magical illusions. Feast on a sumptuous buffet dinner prior to the show and shop for souvenirs at the Carnival Village.
Ancient Siam – Take a leisurely walk with your kids in Ancient Siam (formerly AncientCity) in Samut Prakan, an outdoor museum flanked by replicas of Thailand's most famous structures and temples.  Must-see attractions are: the Wat Kaho Phra Viharn, Phimai Sanctuary and the Ayutthaya reproduction. Interestingly, this 320 hectare attraction in Bangkok is shaped like ThailandKingdom. So if you don't have the luxury of time to visit all of Thailand's top architectural wonders, then pay a visit to Ancient Siam.
Dream World Amusement Park – This is an American inspired theme park divided into several zones like: Fantasy Land, Adventure Land, Dream Gardens and Dream World Plaza.  With the abundance of exciting rides here, kids will never run out of things to do!  But the star of the Dream World Amusement Park is the first hanging coaster in Asia nestled in Adventure Land.
Pattaya Kart Speedway – Adventurous kids will surely have fun in Pattaya Kart Speedway, the first Go-Kart racing circuit in Pattaya.  Let your kids hop on a mini-kart or double-seated kart and wind through the Beginner Track which was built for amateur and kids.  If you like to try them too, don't fret because there is also a Professional Track for adults and experienced drivers! 
Chiang Mai Zoo – This 200 acre zoo was established by The Zoological Park Organization in 100 Huay Kaew Road, Chang Mai in 1974. It is situated at the foot of Doi Suthep mountain and is clad by lush wilderness, and rolling hills. Chang Mai zoo houses about 400 animal specie including giant pandas, koalas, tigers, lions, zebras, giraffes, flamingos and hippos, among others.
ALSO READ: